Vitamin F with Jayme Barrett
---
Flowers Fuel the Soul and Create Inspiring Spaces
Jayme Barrett explains the floral energies in the video above.
From A to E, vitamins are responsible for strengthening our senses, bolstering our bones and invigorating our bodies from the inside out. Research proves that flowers, being dubbed by some as Vitamin F, help feed our need for serenity, inspiration, wellness, gratitude, love and optimism.
Mind and matter are interconnected, according to personal fulfillment expert and best-selling author Jayme Barrett, as she points to university research studies linking flowers with happiness, creativity, compassion and tranquility. Barrett's interiors expertise coupled with the floral investigations demonstrate that flowers hold an intrinsic, natural energy that, when used throughout the home, can create positive shifts in emotions, and lead to truly inspired living.
"People and flowers both have a life force that needs oxygen to thrive, and light and water to live. And, when we are surrounded by nature, our emotions are calmed and harmonized," says Barrett, who has applied the principles of Zen and feng shui to floral design. Her philosophy is that we can cultivate idyllic atmospheres by purposefully integrating flowers throughout our living space.
In fact, research from America's leading universities has cemented the connection that flowers have both scientific and emotional powers. As early as 2000, Rutgers University found that flowers create instant delight and happiness, and increase enjoyment and life satisfaction. Most recently, a Harvard University study introduced small bouquets of flowers into people's morning routines and discovered that respondents immediately perked up, much like they would with a morning vitamin.
"We need and deserve simple ways of creating homes where we feel happy and harmonious by disconnecting from the hectic pace of the world outside," says Barrett. "Flowers are a wonderful way to ease the stress of everyday life and refocus our emotions more constructively."
So that anyone can introduce a range of positive floral energies in the home, Barrett shares a simple, do-it-yourself guide to creating Vitamin F arrangements. Her seven soul-stimulating energies include gratitude, wellness, inspiration and motivation, love and romance, new beginnings, serenity, and prosperity. Her floral formula factors in color combination, shape and significance, vase style, placement in the home and flower variety.
---
Barrett's Blueprints for Mood-Boosting Vitamin F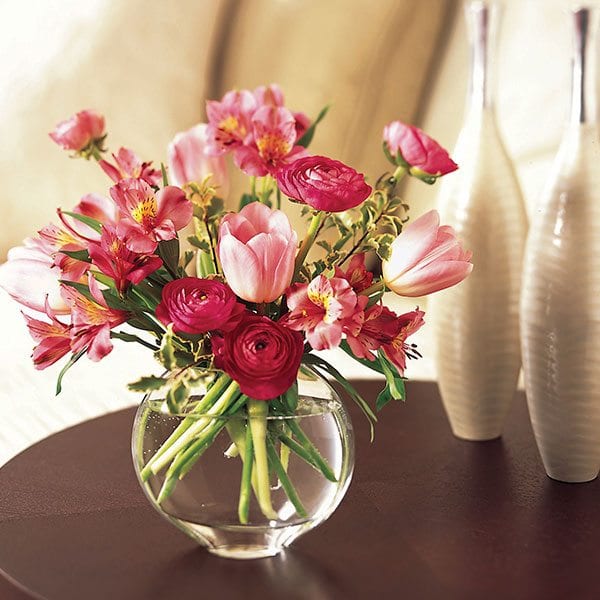 Gratitude: Reminds us to be grateful for the little blessings in life
Key Colors: A low, clustered arrangement in all shades of pink symbolizes opening the heart and making others more receptive to you.
Vase Style: A glass container of any size is fitting, as its transparency exhibits openness.
In the Home: To start and end the day counting your blessings, place this depiction of gratitude on a nightstand, dresser or in the kitchen.
Suggested Flower Options: Ranunculus, alstroemeria, tulips, spray roses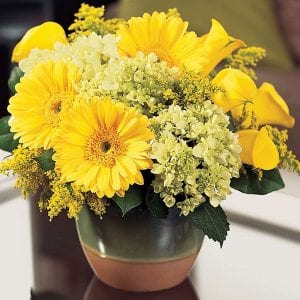 Wellness: Evokes balanced feelings of mind, body and spirit
Key Color: Yellow is the primary color for this emotional energy, as it represents the sun, life force and health. Supplement a big burst of blooms with greens, which induce nature's healing energy, and white, which reflects serenity.
Vase Style: Choose an oval or round, terra-cotta, wood or bamboo container to replicate the Earth's element, providing grounding and balance.
In the Home: Locate this energy in the living room or family room to enhance the space of relaxation, meditation and family connection.
Suggested Flower Options: Gerbera, carnations, solidago, hydrangea (white or green), callas, pompons, chrysanthemums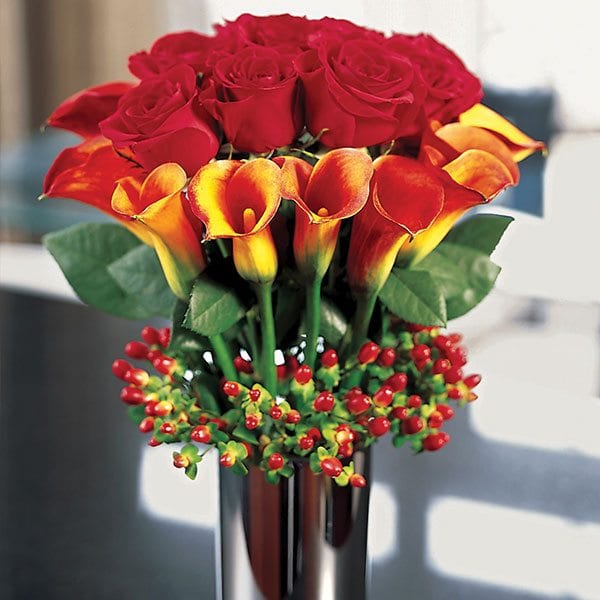 Inspiration and Motivation: Infuses the soul with rejuvenating energy
Key Color: Red epitomizes motivation, fame, courage and power. Design an up-shooting spray that also includes sensuous, rich orange and fuchsia, which suggest enthusiasm and exuberance.
Vase Style: A tall mirrored or shiny metal container of any kind will stoke inspiration. Mirrors boost positive energies and bring good luck, which will circulate through all endeavors.
In the Home: The home office is an ideal place to inject motivational energy — or the power of now. Anyone will feel encouraged to reach for the stars and live life to the fullest.
Suggested Flower Options: Roses, callas, Asiatic lilies, snapdragons, hypericum
New Beginnings: Welcomes change with open arms and mind
Key Color: Stimulate joy, enthusiasm and excitement with a simple arrangement featuring the color orange. Complement it with white — the color of purity and freshness — and green, characterizing new opportunity and growth.
Vase Style: A square, ceramic vase brings an earthy energy, proclaiming that while the sky's the limit, it's good to keep your feet firmly rooted on the ground.
In the Home: Put the spirit of new horizons on display on a mantle or coffee table, where it will instill faith, creativity and endless possibility.
Suggested Flower Options: Gerbera, carnations, Asiatic lilies, spray roses, alstroemeria
Prosperity: Stimulates action and indicates success and richness
Key Color: Let red or deep purple dominate this abundant arrangement, intimating accomplishment and wealth. Accent with shades of gold, the preeminent color for good health and fortune.
Vase Style: Select a metallic, perhaps golden container, representing a pot of gold.
In the Home: Give your home a boost by placing this inspirational bouquet where you welcome guests or potential buyers.
Suggested Flower Options: Lilies, roses, lisianthus, snapdragons
Serenity: Allows our minds to unwind and release tension, bringing a sense of calm to our lives
Key Color: Loosely arranged hues of blue, violet and lavender evoke serenity and will help clear the mind of stress. Blue represents the ocean and sky, while shades of purple invoke spiritual energy.
Vase Style: A cobalt blue glass vase represents inner wisdom and will help add balance. The blue is yin (soft, curving, cyclical) and the glass is yang (straight, shiny, linear) for a perfect equilibrium.
In the Home: Setting this in the entryway will set the tone for tranquility as you step inside your home from the chaotic world outside.
Suggested Flower Options: Hydrangea, delphinium, lisianthus, stock
Love and Romance: Sparks intimate connections and blossoming love
Key Color: A tight bunch of flowers flush with burgundy and red embodies feelings of passion and romance. Incorporating lush pinks and peaches will help invite love and inspire kindness.
Vase Style:Vase Style: A circular vase is the perfect shape for never-ending love.
In the Home: Spark feelings of adoration during a meal in the kitchen or dining room. As you nourish your body, you will be dually energized by love and encouraged to show your affection throughout the day and night. Flowers are a great addition to the bedroom too.
Suggested Flower Options: Stock, roses, alstroemeria
"We all strive to surround ourselves with positive energy, and nature is a powerful and proven tonic," says Barrett. "Anyone can let Vitamin F fortify their home, whether it's a refuge, haven, retreat or sanctuary."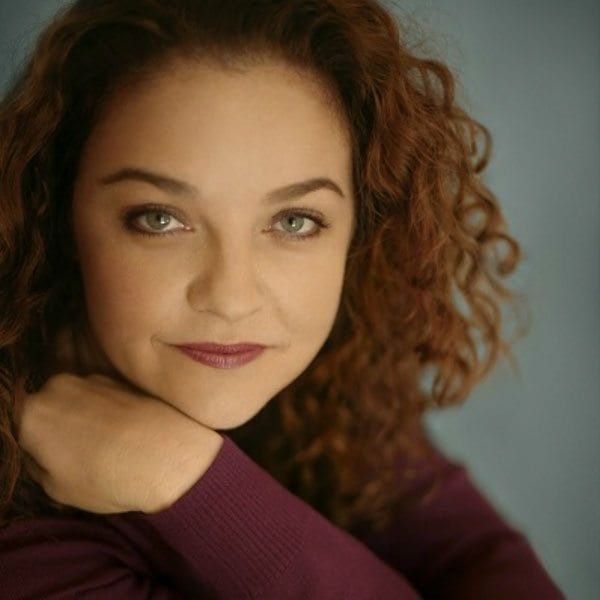 Jayme Barrett
Jayme Barrett, the leading authority on inspired living and best-selling author, empowers individuals to design their lives for increased balance, energy and motivation. Barrett specializes in techniques for personal fulfillment, prosperity and integrated health. She has appeared on numerous national television shows and been featured in print publications. Barrett is also a recurring speaker and workshop presenter at Paramount Pictures, Warner Bros. studios, and for numerous corporations, retreat centers, resorts and nonprofit organizations around the world.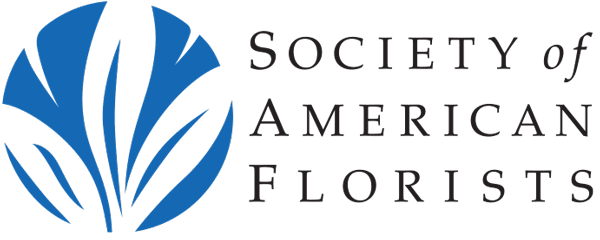 Aboutflowers.com is hosted by the Society of American Florists, the U.S. floral industry trade association. Click below to find a local SAF member florist to send flowers, roses and gifts for delivery.