Theme Parties with Flowers
People go to parties to have fun and socialize. What better way to show your creativity, add character to your party and dazzle your guests than through a theme? Read below for ideas to jump-start your imagination: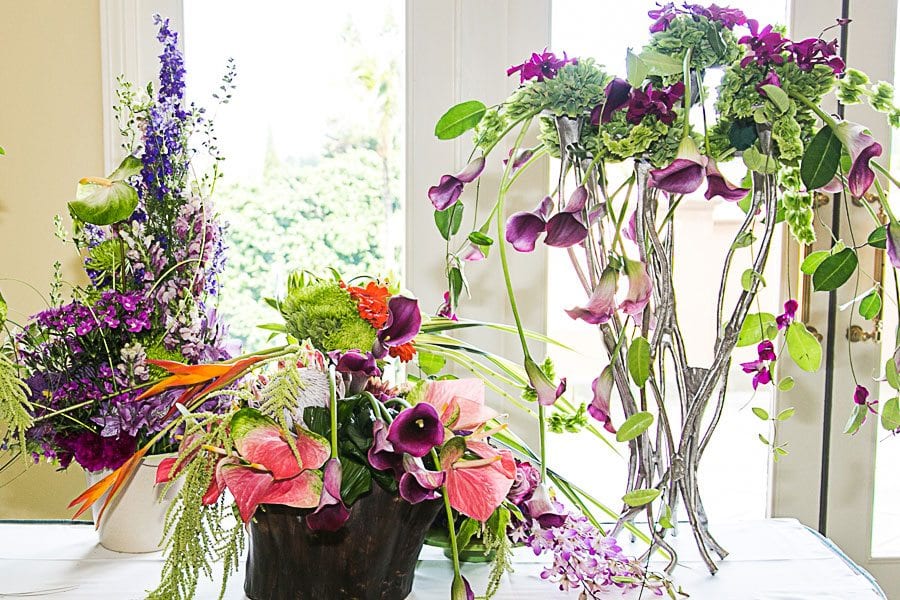 ---
Backyard Barbecue
A backyard barbecue is relaxed, festive and friendly. Since barbecues usually take place in the summer, ask your florist about which flower varieties do well in your climate.
Floral Decorating Ideas
Consider using Mason jars filled with bunches of daisies (a great summer flower) over checkered tablecloths.

Drop a few candles into similar jars if it is an evening event.

Or ask your 

florist

to make colorful arrangements in fun containers such as baskets or bottles.
Special Touches
Decorate pies and cakes with matching flowers and greens.

Use strands of raffia to tie napkins around silverware, slipping a single stem into each bow.
Suggested Flowers
Daisies, marigolds, roses, lilies, asters, sunflowers, scabiosa and ornamental grasses.
---
Perfect Patio/Garden Party
Patio and garden parties can be sophisticated or casual, but the focus is always on the beauty of nature.
Floral Decorating Ideas
Clay pots fit any decor and can be used for flowering plants, green plants or even flower arrangements.

Topiary designs look great in clay pots and can be created with ivy or flowers.

Floating candles and flowers in crystal bowls add a soft glow to the party.

Miniature vases showcasing different types of flowers make great table decorations and can given to guests as party favors.

Small clusters of roses in low containers with a sprinkling of rose petals on the table among votive candles can create a very elegant mood.

Special Touches
Hang twinkle lights or lanterns from trees or place lights among flowering plants.

Outline the patio with plants and twinkle lights at the ground level to create a defined space.

Floral name cards or a flower on each napkin adds a personal touch.
Suggested Flowers/Plants
Roses, peonies, ranunculus, snapdragons, delphiniums, anemones, lily of the valley, lisianthus, heather, hydrangea, tulips, alstroemeria, begonias, geraniums, fuschias, ferns, ivy and impatiens.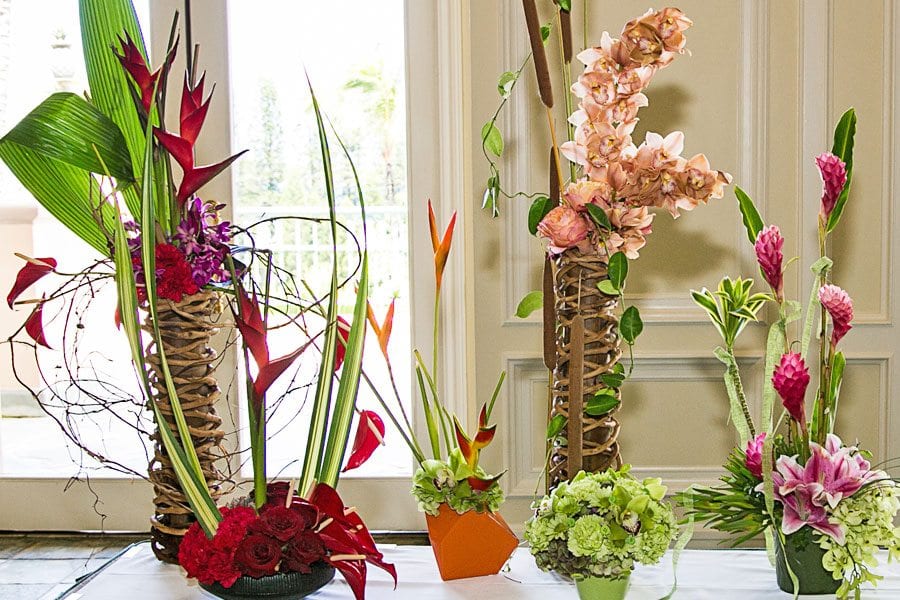 Hawaiian Luau
With the vast variety of tropical flowers now available on the market it is quite simple (and lots of fun!) to create your own Hawaiian paradise.
Floral Decorating Ideas
Flower leis make a memorable gift for your guests and can usually be special ordered in advance from your florist.

Show off your tropical floral arrangements in weighted pots surrounded by fruit and vegetables or covered with a Hawaiian print fabric.

You can even use hollowed pineapples or coconuts as festive floral containers.

If you have a pool, ask your florist to create fun floral arrangements that will float.
Special Touches
Use tall torches in the ground or small ones placed into potted tropical plants.

Make interesting votive candle holders by carving out fruits, vegetables or Protea (a hardy tropical flower available at florists).

Decorate platters and trays with flowers or palm fronds, and include the customary flower trim for cocktails.

Ask your florist if he rents props or tropical palms.
Suggested Flowers
Anthurium, protea, ginger, heliconia, birds of paradise, torch ginger and orchids.
---
French Country Dinner
Creating the ambiance of a French Country table at your next feast begins by taking a "stroll through the Provence" and into your nearest flower shop.
Floral Decorating Ideas
Designs that are fragrant, simple, bountiful and earthy are key elements.

Strands of rye grass in white or blue-washed pots tied with a French ribbon are simple and graceful decor for a serving counter or sideboard.

Galvanized metal buckets can hold plants or flowers.
Special Touches
Cover small pots of fresh herbs with French print fabric and tie with French ribbons for accent pieces. Set them next to a bountiful floral centerpiece with bright colors that match the fabric.
Suggested Flowers
Rye grass, delphinium, roses, spray roses, iris, sunflowers, flowering branches, dahlias, french tulips, hydrangea, solidaster, heather, and herbs such as rosemary and lavender.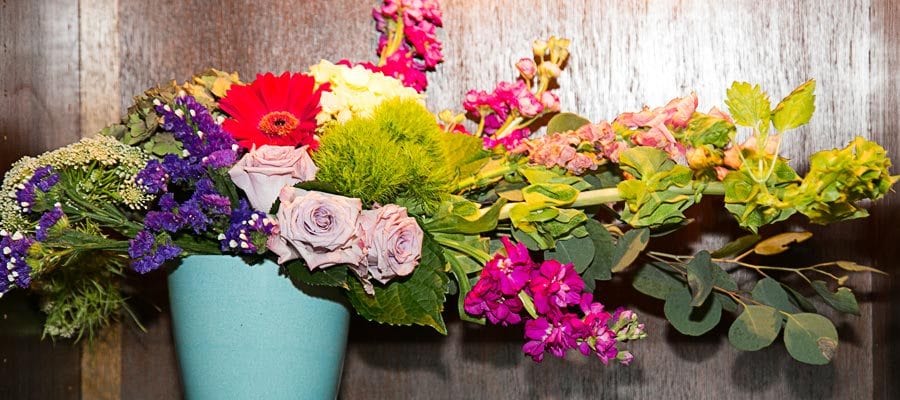 ---
Mexican Fiesta
Everyone loves a fiesta. The word conjures up images of swirling, vivid colors amidst music and laughter. Flower décor should be bright, bold and fun. Ole!
Floral Decorating Ideas
For a lively centerpiece, try mixing colorful gerbera daisies in Mexican "bubble" glass or painted pottery.

Make a flower punch float for the Sangria bowl using a mixture of bright blooms.

Suspend or display piñatas that have been opened on the top and have flowers arranged inside.

Place flower arrangements or plants in sombreros for a table piece.
Special Touches
Scatter brightly colored flower petals on the tables around centerpieces or candles.

Decorate Margarita glasses with a cocktail pick piercing a small bloom and a lime.
Suggested Flowers
Vivid colors can be found in many flower varieties: gerbera daisies, gladiolas, snapdragons, roses, carnations, chrysanthemums, various tropical flowers, ranunculus and lilies.
---
Wine at Nine
A Wine at Nine get together is the perfect opportunity to showcase your style and sophistication through your choice of wines and flowers.
Floral Decorating Ideas
Ask your 

florist

to design flowers in a champagne bucket or in a cluster of wine bottles.

Decorate passing trays with flowers.

When serving champagne, pierce a flower blossom and several berries with a cocktail pick and lay it across the top of the champagne glass.

Place groups of flowers and candles of various heights around the room.

Ceramic, marble or fabric-covered wine coolers also make decorative flower vases. (If using terra-cotta, line the inside with a plastic bag to hold the water.)

Floating candles and fragrant blooms in a crystal bowl make a simple yet elegant centerpiece.
Special Touches
Decorate food serving trays with mini grape wreaths (lying flat) as "holders" for serving bowls or plates.
Suggested Flowers
A few interesting conversation starters might include cosmos, roses, lilies, anthuriums, orchids, freesia, lisianthus, callas, ranunculus, tulips, iris and gerbera daisies.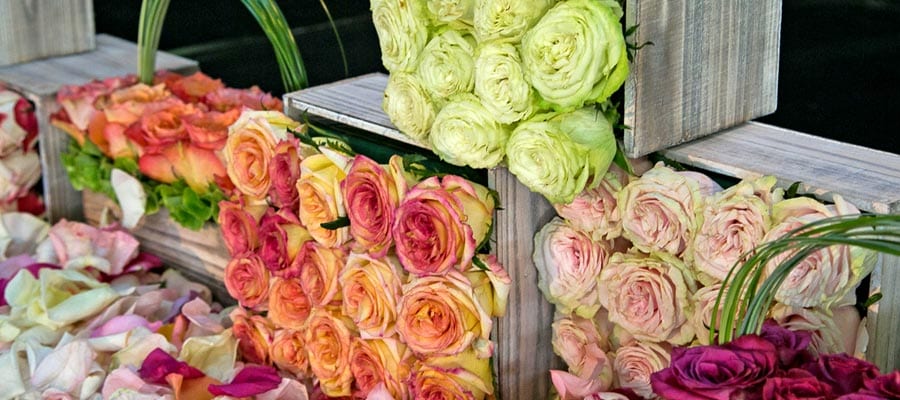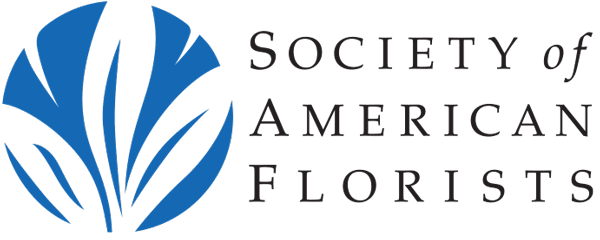 Aboutflowers.com is hosted by the Society of American Florists, the U.S. floral industry trade association. Click below to find a local SAF member florist to send flowers, roses and gifts for delivery.