A trend spotter. An artificial intelligence expert. Entrepreneurs. An ecommerce guru.
SAF Phoenix 2023, the Society of American Florists' 138th annual convention Sept. 6-9 at the Westin Kierland Resort & Spa in Scottsdale, Arizona, brings together some of the brightest minds inside and outside the industry to share their expertise.
"SAF has tapped some of the industry's top experts and most successful business owners to share their insights that will help attendees take their business forward and tackle the challenges of today," says SAF President Michelle Castellano Keeler, AAF.
The expert lineup for the convention's 19 educational sessions — which includes three all-industry sessions and a keynote address — will discuss how to leverage emerging trends in floral design, and explain strategies for better business operations, growth and profitability, team development and more.
Growth and Profitability  
Nicole Donnelly, AI Smart Marketing, Seattle
Nicole Donnelly contends that AI offers countless ways to improve productivity and efficiency — so much so that it will become an everyday skill akin to using the internet. "It will ultimately free up your time," she says, "so you and your employees can focus on your most impactful work." In her session, "Leveraging AI to Revolutionize Your Business," Donnelly will walk through how to get started with AI tools, identify which areas of the business stand to benefit the most and bring your team on board with adopting AI into their workflows.
Panel: Pat Dahlson of Mayesh Wholesale Florist, Los Angeles; Jena Gizerskiy of Rosaprima, Miami; and Susie Bachman West, Bachman's Floral, Gift & Garden, Minneapolis

The panel will share how they built a strong brand — and in return a loyal customer base — for their businesses during the session, "Building Brand Loyalty." Susie Bachman West of Bachman's Floral, Gift & Garden, Pat Dahlson of Mayesh Wholesale Florist, and Jena Gizerskiy of Rosaprima will discuss how to build a strong brand, leverage technology to build mutually beneficial relationships with customers, and how to turn your employees into "brand evangelists."
Panel: Erin Davidson Bruno of McNamara Florist, Indianapolis; LaToya Ferguson of Sweet Psalms Florist in Conyers, Georgia; and Brennen Rigler, Albuquerque Florist, Albuquerque, New Mexico

In the session, "Reaching Customers in a Crowded Digital Landscape," panelists will reveal their best digital marketing practices to break through crowded inboxes and cluttered social media streams and drive sales.
Chris Beals, CEO, Komet Sales, Doral, Florida
Beals, a seasoned ecommerce executive and the former CEO of leading online cannabis marketplace Weedmaps, will lead two sessions on building strong websites that drive sales. "Frictionless E-Commerce: Secrets of High-Performing Websites" is tailored for retailers, and "B2B Hacks to Drive Online Sales," is designed for floral suppliers. Beals will pull from his experience at Weedmaps, where he discovered best practices for maximizing efficiencies, reducing friction, motivating sales teams and increasing customer loyalty.
Team Development
Panel: Cheryl Denham, Arizona Family Florist, Phoenix; Lisa Hays Holmes of Tiger Lily, Charleston, South Carolina; John and Sally Kobylinski, formerly of In Bloom Florist, Orlando, Florida; and Kevin McCarthy, Family Flowers, Alpharetta, Georgia.

Floral business owners who recently sold or bought floral businesses will talk candidly about planning for and executing a successful during the session, "What's Your Exit Strategy?," They will also offer insight into how to prepare a business for sale, identify the right buyer and address the emotional aspect of selling.
Panel: Brian Wheat, AAF, PFCI, and Lori Wheat, AAF, of Lafayette Florist, Gift Shop and Garden Center, Lafayette, Colorado; and Ian Prosser, AAF, AIFD, PFCI, and Zoe Gallina, AAF, Botanica International Décor and Design Studio, Tampa, Florida

These panelists have recently or will soon, pass the torch to the next generation. During the session, "Blueprint for Family Succession," they'll share how they identified and trained the next generation, how to let go and transfer responsibilities, and offer insights on which tactics were helpful to the process — and what was not.
Operations
Lisa Roeser, AAF, Fifty Flowers, Boise, Idaho
Lisa Roeser, founder and CEO of Fifty Flowers, will show other business leaders how an Entrepreneur Operating System EOS can help them establish effective goals and base management decisions on data rather than emotions during the session, "Operational Tools That Sustain Your Business." A devoted believer and user of the EOS system, Roeser follows the granular aspects of the program with every aspect of her business, which provides clarity for her and her team.
Jennifer Cummins Linehan, AIFD, CFD, Beautiful Blooms by Jen, Sylvania, Ohio, and Kaitlin Radebaugh, AAF, Radebaugh Florist & Greenhouses, Towson, Maryland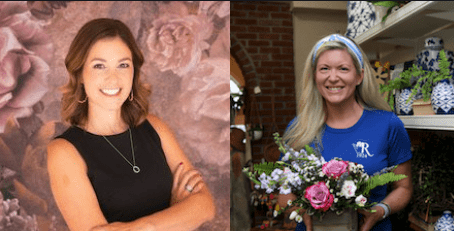 Two retailers who've tapped into the experience economy and found an additional revenue stream share how they leveraged the trend in the session, "In Store Experiences Workshop." They'll share how to create experiences that align with your brand, attract young shoppers, and engage shoppers online to cultivate community.
Trends
Talmage McLaurin, AIFD, Esmeralda Farms, Doral, Florida
Talmage McLaurin, AIFD, has established a career identifying and understanding floral trends. He spots the up-and-coming aesthetics and has successfully forecasted trends that influence business and marketing decisions and drive customers to purchase flowers. In his session, "Flower Trends Forecast 2024," he'll reveal the top trends to incorporate into your designs next year.
Amanda Jedlinsky is the managing editor of SAF NOW.