Get the Floral Education You Need to Succeed
New to the industry and learning to be a florist? Or are you a savvy industry veteran wanting to learn the latest best practices from experts and your peers? SAF's professional development programs and floral industry events provide the best in industry education, as well as opportunities for networking with your peers to get answers to your most pressing business questions. For more information on SAF meetings and events contact Laura Weaver, 800-336-4743, ext. 221, lweaver@safnow.org.
Mark Your Calendar for these SAF Events!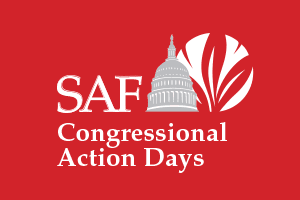 Congressional Action Days 2019
March 11-12, 2019
Ritz-Carlton Pentagon City
Arlington, VA
Retailers, wholesalers, suppliers and growers tell Capitol Hill about their businesses and the floral industry's legislative priorities.