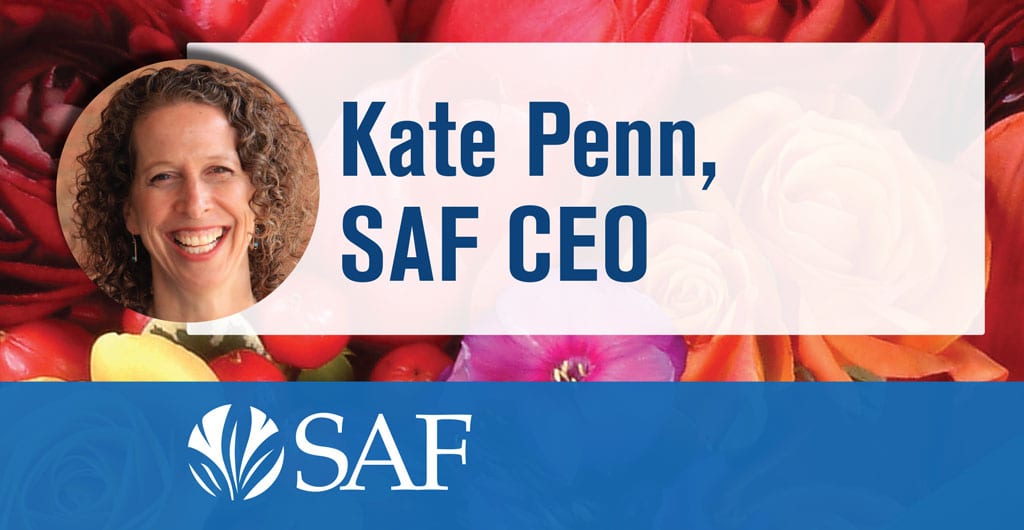 The Society of American Florists will unveil its new strategic plan this September during SAF Amelia Island 2019, the association's annual convention.
The plan, the result of a year-long, comprehensive effort shaped by direct feedback from SAF members and non-members, volunteer leaders and staff, along with expert counsel from an outside third party, empowers the 135-year-old organization to more robustly engage with pressing challenges facing floral professionals today — including a critical labor shortage — and to play a central role in connecting and creating a thriving floral community in the future.
"Over the past year, SAF has embarked on a transformational journey that challenged our board of directors and staff to answer fundamental questions about our industry and our organization: what are the biggest challenges our industry faces, and which ones is SAF uniquely positioned to help solve?" said Kate Penn, SAF's CEO. "Moving forward, we will double down on our current strengths — government relations, education and marketing — and also tackle issues that we know have the biggest impact on our members' ability to thrive, to help create a more unified, energized industry."
Specifically, SAF's new plan focuses the organization's efforts to help the industry recruit and retain talent; connect industry members who want to learn, share ideas and grow; and prepare for the future.
These issues came up repeatedly during surveys of the group's current and former members, said SAF President Bill LaFever, PFCI, of the Bill Doran Company in Rockford, Illinois.
"The process has been a deep dive into the challenges we all are wrestling with: how to get a handle on labor, where to go for help, how to create a business that's durable and successful in a time of real change," LaFever said. "By looking closely at these issues, and the role SAF is uniquely situated to play in addressing them, we've been able to craft a plan that allows SAF to respond more nimbly to these critical areas, with new services, resources and support."
In addition, the plan builds on SAF's long and active history in government relations as a trusted partner to its members, other industry groups, Congress and government agencies. Penn said SAF will continue to work with the "deep bench" of lobbying resources at its longtime partner Cornerstone Government Affairs.
"The SAF-Cornerstone partnership has helped us achieve significant regulatory and legislative successes in recent years, including increased funding for the Floriculture and Nursery Research Initiative and Floriculture Crops Report, and a heightened profile for SAF and key industry issues year-round on Capitol Hill and during SAF's annual Congressional Action Days," Penn said. "SAF will remain the face of floriculture in Washington, advocating for the issues that matter most to the floral industry."
SAF also is still steadfast in its commitment to consumer marketing, Penn added: "We will continue to help our members drive local sales and create local awareness of the power of flowers and plants with our rich pool of local marketing resources, including Petal it Forward, university research on the benefits of floral gifts, ready-to-go digital and print marketing materials and more," she said.
Penn will present SAF's plan on Sept. 19 during "The State of the Industry — and SAF" at SAF Amelia Island 2019. Find out more and register today.
Mary Westbrook is the editor in chief of Floral Management magazine.