When Rey Rodriguez, AAF, AIFD, TMFA, of The Gypsy Florist in Austin, Texas, stepped into a hotel ballroom last week for the Society of American Florists' 50th Annual Sylvia Cup Design Competition during SAF Palm Springs 2018, he wasn't nervous — he was ready.
"I look at every competition as a learning workshop," admitted Rodriguez, who worked quickly and thoughtfully throughout the two-hour competition, pausing to reflect, adjust and tweak — making changes based on his own intuition and experience, and with a little help from the stream of floral industry members watching the show. "[At one point], I knew what I wanted but didn't feel I was achieving it in the way I had hoped, and so I worked off of the reactions of the crowd."
In the end, his approach (and steely nerves) paid off in a big way when Rodriguez took home the coveted trophy and $3,000 prize for his designs.
"I'm still in shock, still smiling from ear to ear," said Rodriguez, who has competed once before in the competition and was the first contestant this year to sign up. "I'm overwhelmed by the show of congrats from the general public" — many of whom have heard about his win and the competition from social media posts. "I loved the experience, l love the show of support. I hope I'm able to educate other shop owners and designers about what SAF can do for them."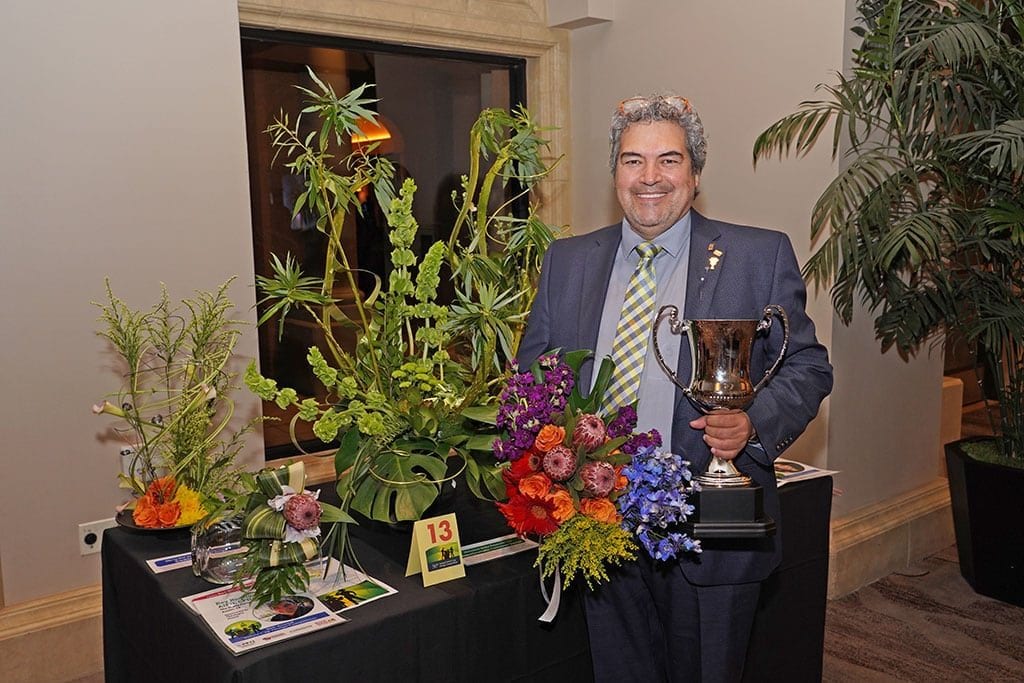 Lisa A. Greene, AAF, AIFD, PFCI, of Beach Plum Flower Shop in Newburyport, Massachusetts was named first runner-up and awarded $500.
Lee Burcher, AIFD, CCF, PFCI, of Fleur de Lys in San Pedro, California, received second runner-up honors and $250. Burcher won Sylvia Cup top honors in 2004.
The Sylvia Cup is the country's longest running live floral design competition. It began in 1967 and is named for Sylvia Valencia, a prominent designer and long-time SAF supporter. This year's competition — the contest's 50th anniversary — paid homage to "The Wizard of Oz." It was sponsored by Certified American Grown and Smither-Oasis and coordinated by Professional Floral Communicators-International.
Among the 19 floral designers competing were 12 members of the American Institute of Floral Designers, eight past Sylvia Cup contestants and three contestants sponsored by state floral associations.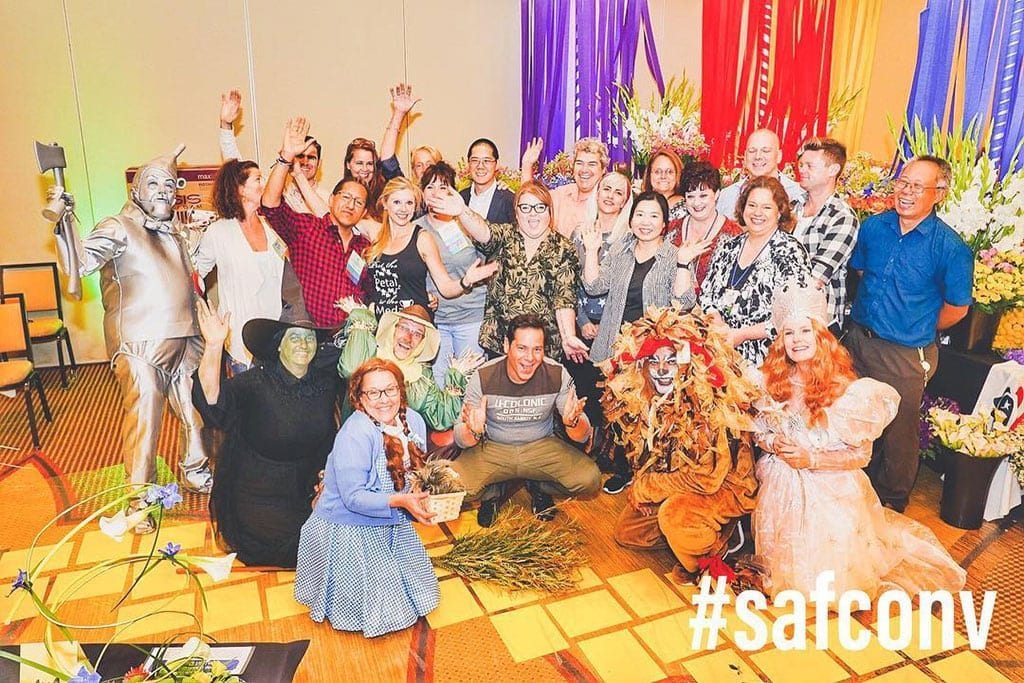 All three Sylvia Cup judges — Tim Farrell, AAF, AIFD, PFCI, of Farrell's Florist in Drexel Hall, Pennsylvania; Joyce Mason-Monheim, AIFD, AZMF, PFCI, of Tucson, Arizona; and Leanne Kesler, AIFD,PFCI, of the Floral Design Institute in Portland, Oregon — are AIFD Certified Floral Evaluators/Judges.
"I felt this year's competitors all had a higher level of design," said Mason-Monheim, who won the 2013 Sylvia Cup. "In years past, there seemed to be a clear designer table that stood out well above the others. This year there was not, showing that there were many tables with a high standard of design and creativity, making it more challenging to judge with an unpredictable result."
Each contestant received the same materials from the competition's sponsors and challenge. Sylvia Cup Coordinator Marlin Hargrove, AAF, AIFD, PFCI, of Pete Garcia Company in Atlanta arranged the challenge, three designs in the "Wizard of Oz" theme. His co-coordinator was Jenny Behlings, AAF, AIFD, PFCI, SDCF of Jenny's Floral in Custer, South Dakota.
"The competition was amazing," Behlings said. "Beautiful designs and ideas were flowing for all to see!  I am always amazed by the diverse styles and interpretation of the design criteria. Visiting with a visitor during the competition, he commented on the level of focus that each participant showed and said, 'This should be a reality TV show!'"
Those themes, along with the category winners for each:
We're Not in Kansas Anymore: Conical Design
Recreate the storm's funnel cloud through a conical design with a European flair. Capture your flowers in a brilliant display of color blocked chaos. Apply the elements of rhythm and motion that will carry your design all the way to the Wizard.
FIRST PLACE
Adam Havrilla, AIFD, ICPF, PFCI, Artistic Blooms, LLC, Chicago, Illinois
SECOND PLACE
Lisa A.  Greene, AAF, AIFD, PFCI
THIRD PLACE

Jenifer Rupnow, Matzke Florist, Elkhart, Indiana
Sponsored by Linda & Stan Rupnow
Only Bad Witches are Ugly: Imaginative Wand
Celebrate Glinda the Good Witch presence with an imaginative wand. It needs to have multiple focal areas while maintaining an appropriate balance and manageable weight. Your magic will shine through the details of your design.
FIRST PLACE

Rey Rodriguez, AAF, AIFD, TMFA
Sponsored by The Gypsy Florist
SECOND PLACE
Lee Burcher, AIFD, CCF, PFCI
THIRD PLACE
Roslyn Long, AIFD, Jasmine Creek Florist, El Cajon, California
Sponsored by Jasmine Creek Florist
Welcome to the Emerald City: Monochromatic Container Design
Create a whimsical container design that would be fitting for the foyer of the Wizard's castle. It should be a combination of foliage and florals all in a monochromatic color scheme, the wonderful and rich color green.
FIRST PLACE
Rey Rodriguez, AAF, AIFD, TMFA
SECOND PLACE (Three-way tie)

Lee Burcher, AIFD, CCF, PFCI
Lisa A.  Greene, AAF, AIFD, PFCI
Alejandro Figueira Fernandes, AIFD, Ornatus Events Productions, Davie, Florida
THIRD PLACE
Molly Boulden, NAFD, Corum's Flowers, Omaha, Nebraska
Sponsored by Bill Doran Company – Omaha, Nebraska
Additional Sylvia Cup 2018 Information
Photo Album coming soon to Flickr!
Sylvia Cup was Live on Facebook
Mary Westbrook is the editor in chief of Floral Management magazine.