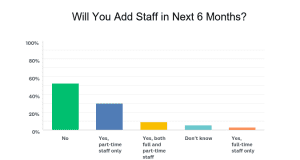 Fifty-six percent of respondents to a recent Society of American Florists' survey plan to spend more on labor this year, an expectation that puts them in line with national trends in a highly competitive labor market.
That increased spending isn't necessarily going to be directed at new hires: 53 percent of respondents to the SAF survey said they do not plan to add any new staff in the next six months. About 30 percent plan to hire part-time staff only. Roughly 32 percent said they plan to increase salaries or pay within the next six months — 19 percent said they'll add hours during that same time period. (About 16 percent plan to reduce hours.)
Overall, the survey, which included responses from retailers, wholesalers/suppliers/importers and growers painted a fairly optimistic picture: 49 percent of respondents said business right now is "good," and nine percent said it's "excellent."  (Retailers represented the majority of respondents to the survey.)
Still, for many industry members, finding and keeping top talent is an ongoing and significant challenge.
One florist in Oklahoma noted stiff competition in her market from other employers: "[It's] hard to compete with the beginning wage offered by floral departments at grocery stores, plus they offer benefits."
"The unemployment rate is very low, and finding people is extremely difficult," a florist in New Hampshire explained. "Retention requires pay adjustments, which are also difficult."
In another write-in response, a Michigan florist noted "prayer and luck" seem to be the only ways to recruit and retain talent.
That doesn't mean industry members are giving up. A number of other respondents indicated they've been investing more time in education for their existing team members, along with morale-boosting activities to sustain and develop talent. 
Beyond labor, the survey found that, among all respondents:
49 percent expect to spend more this year on perishable product.
40 percent plan to spend at about the same level on hard goods; 38 percent plan to spend more.
37 percent said they'll spend about the same amount on giftware; 24 percent predict an increase.
39 percent expect to spend about the same amount on capital investments.
45 percent say they plan to spend about the same on energy; 39 percent expect an increase.
In addition, 54 percent of respondents anticipate tax reform having an effect on their business.
Look for more survey coverage next week, including insight into respondents' perspective on sustainably produced goods. If you missed our overview last week of 2018  sales expectations, you can check that out here.