For the past two years, Fifty Flowers has partnered with the Boise Police Department and the Ada County Sheriff's Office to hand out flowers for its Petal It Forward events in downtown Boise, Idaho.
"This allows us to cover more ground, reach more people, and we did get additional media coverage both on TV with a local news station and on social media," CEO Liza Roeser-Atwood said. "The officers were great to work with and it's nice to see the reactions on people's faces when a police officer hands them flowers instead of a ticket."
Partnering with other groups, whether within or outside the floral industry, can give your Oct. 24 Petal It Forward event a boost, said Jennifer Sparks, the Society of American Florists' vice president of marketing. She suggested dubbing your volunteers who hand out flowers as "happiness ambassadors" — who wouldn't want to be that for their community? "Consider teaming up with a community group such as the fire department or sports team or even a local celebrity like the mayor to generate additional buzz," Sparks said, "And talk with your wholesaler or supplier to see how you can work together on product and logistics."
Tiffany Houck, special event coordinator at House of Blooms in Sugar Land, Texas, said her shop might partner this year with an animal shelter or education foundation. And if the shelter brought a few cute, adoptable puppies, recipients would benefit from a double dose of happiness, Houck said.
FTD partnered last year with retailer Phillip's Flowers and wholesalers Sun Valley Group and Galleria Farms to brighten a rainy day for train commuters in suburban Chicago, where it is headquartered. Their Happiness Ambassadors visited one station during the morning rush and another in the evening, handing out 3,000 bouquets, said Emily Bucholz, FTD's marketing communications director.
Calling the partnership a "trifecta of success," Bucholz said Sun Valley donated 2,000 bouquets, Galleria contributed 1,000, and FTD paid the freight and for Phillip's to process the flowers. Phillip's delivered the bouquets to the stations and provided volunteers from its corporate office and some of its 10 stores. "It was a team effort," she said. "Overall, it was a low-cost effort since everyone pitched in and provided either goods or services."
As the local Daily Herald put it: "Hundreds of DuPage County commuters made a good impression Wednesday by bringing home bright bouquets of flowers to provide a ray of sunshine on a dreary day."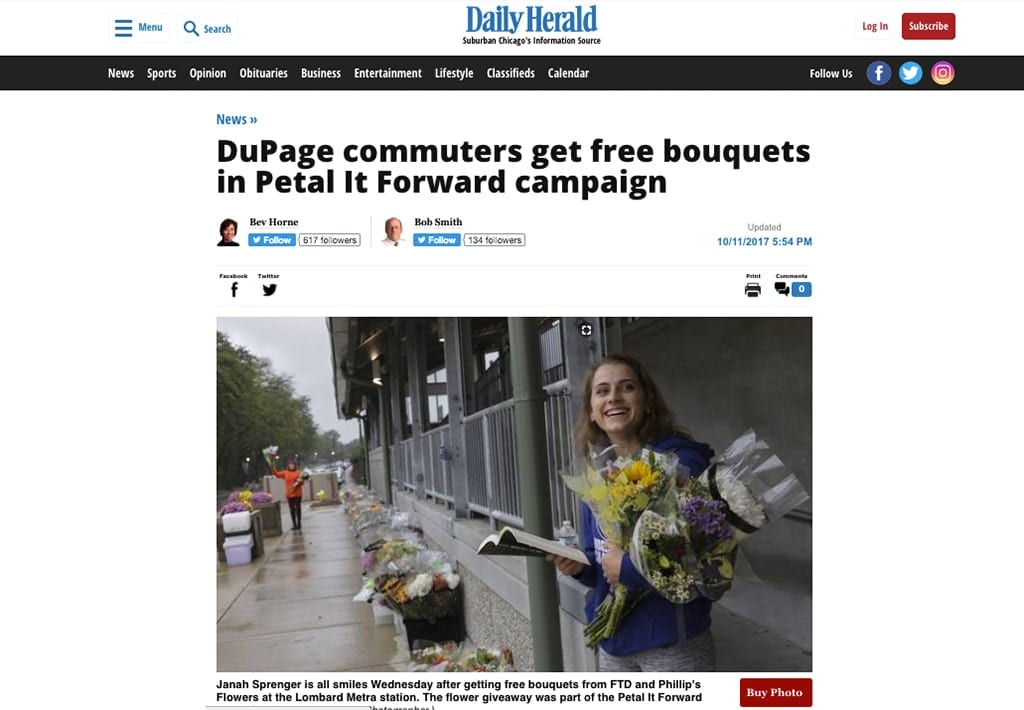 With just two months to go, now is the time to plan your event. SAF makes it easy and provides members with step-by-step advice on logistics, as well as easy-to-implement materials and resources at safnow.org/petalitforward.
"If you plan to join the growing list of participants and hold an event on Oct. 24, fill out the participation form at safnow.org/pifform," Sparks added. "This will help SAF compile a list of Petal It Forward events to show the media it is happening all across the country and help us generate positive news coverage."