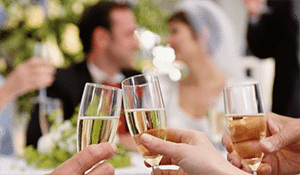 Keep it simple. Keep it short. And — write down your thoughts beforehand.
Those are some of the tried-and-true wedding toast tips collected by the wedding experts at The New York Times, in a round-up of the best (and worst) ways to raise a glass on the big day.
Several of the very practical tips could easily translate to a timely blog post for florists with brides and grooms who are hungry for details on how to make their nuptials just right. Among the tips:
Don't wing it. "Start writing a wedding toast months before," said Peggy Klaus, a speech and presentations coach in Berkeley, Calif. And practice your toast in front of a mirror several times to nail the delivery. "If you don't prepare, your nerves will take over, and it just won't work," Klaus said.
Be brief. No more than three minutes. "You basically want to tell one nice story about the couple and wish them well, and that's all anyone wants to hear," said Sarah Parker, who wrote a how-to book on wedding toasts.
Tell (appropriate) stories. An embarrassing anecdote may be funny — but this may not be the time to share it. Try to say something the couple would enjoy hearing. It's their day, not yours.    Read more.