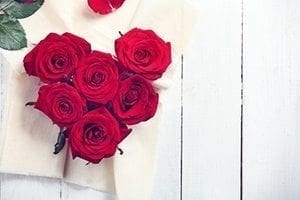 The lead-up to Valentine's Day inevitably includes news stories on "high priced" roses (and indirect and direct accusations that the industry is taking advantage of love-struck consumers). That's why it may be refreshing for industry members to read a level-headed and informative take on the economics of holiday flowers in The Christian Science Monitor.
In a story that originally ran on the consumer website Brad's Deals, reporter Rebecca Lehmann details an effort to track the prices of a dozen roses through five online floral companies over the course of the year, to compare non-holiday and holiday prices.
The floral industry-friendly result? When it comes to accusations that florists, wholesalers and growers price-gouge around Valentine's Day, the writers conclude that "nothing could be further from the truth."
"What we found was a lot more complex than that," the story goes on to explain. "Although flowers are largely treated as a standard retail item, they are in fact a highly perishable agricultural product, which introduces all kinds of difficulties and scenarios that can affect their price on any given day."
The story provides a straightforward assessment of the economic realities of the holiday — the type that any florist might find useful this time of year. Topics addressed include why rose prices are higher and tips on how consumers can find less expensive options (buy less popular flowers, for one).
Need help crafting your own talking points for interviews and prepping for test-order stories (you know they're coming)? Check out all of the resources the Society of American Florists has to offer its members.
A final thought? If you share the Christian Science story, which only discusses online businesses, with reporter friends or on social media, add some advice of your own: For the very best value this year, shop local.