Asocolflores, the association of Colombia flower exporters, welcomed more than 2,000 international buyers to Proflora, its biannual trade show, in Bogota, Colombia, Oct. 4-6.
With 15,000-square meters exhibition space, 321 booths and more than 1,400 varieties of flowers on display, Proflora reigns as the world's largest flower trade show. Asocolflores chose the occasion to unveil its new brand, "Flowers of Colombia."
"Despite hurricanes, floods and international tensions, the floriculture sector has proven its resiliency," said Asocolflores CEO Augusto Solano during the show's opening ceremony. "Still, we face a challenge in building long-term relationships with consumers, clients and the younger generations. We all want and need more people to buy more flowers. We must be at the forefront with the strategy and message we want to deliver."
Flowers from Colombia's logo features four colorful, abstract shapes arranged like flowers in a bouquet, which represent the Colombian floral industry's core values: inspiration, passion, dedication and joy. Its slogan, "diversity that inspires," refers to the country's assets in terms of geography, people and types of available cut flowers.
Asocolflores studied the wine and cotton industries to see how they communicate their values and looked to the fashion world (particularly Finnish textile and clothing company Marimekko) for design inspiration, explained marketing director Eliana Alzate.
"Our main objective is to promote flower consumption, particularly with young people," Alzate said. "We wanted something that conveys flowers are cool."
The brand, which currently includes banners, button pins and a social media video, will provide marketing materials for both businesses and consumers that show how flowers can improve their day-to-day lives. "We already have established leadership with holidays, but we want people to use our flowers to transform their homes and offices," Solano said. "We want to create moving and inspiring experiences for them."
New Solutions for Old Problems
The American Floral Endowment had the full attention of the large crowd of growers, importers, wholesalers and retailers gathered at Proflora thanks to Asocolflores, who added a special session on AFE's latest research concerning Botrytis and thrips.  These pests render flowers unsellable, and cause significant financial losses for all segments of the industry.
AFE anticipated a crowd of 50 people, but more than 160 industry professionals showed up. "To say there is interest in thrips and Botrytis control is a gross understatement," said AFE Research Coordinator Terril Nell, Ph.D., AAF.
"Growers spend a great deal of money dealing with Botrytis and thrips, but their efforts don't work well because these pests are resistant to the many of the pesticides currently available," Nell said.
To tackle the problem, AFE has launched a thrips and Botrytis research campaign to raise $1.5 million in funding for research projects addressing these challenges.  So far, more than 10 importers and growers have signed on pledging nearly $600,000.  "We're almost half way to our goal, so we need additional members of the industry to step up and help us help them," says Nell.  AFE is investing in scientists who've studied the same diseases, only in different crops, including fruit and potted plants.
"We're seeing rapid advancements by recruiting nontraditional people who already have the background," Nell said. "We've just had to take them out of their comfort zones — their offices and labs — and bring them to flower farms."
Among those researchers: Rose Buitenhuis, of The Vineland Research and Innovation Centre in Lincoln, Ontario, and Melissa Muñoz Agudelo, a member of the research team led by Jim Faust and Guido Schnabel at Clemson University in South Carolina. They spent a day visiting growers before leading a packed session, Thursday, Oct. 5, where they discussed emerging pest control techniques, such as dipping cuttings in biological solutions, and how environmental factors, including temperature, humidity, leaf wetness and nutrition contribute to thrip and Botrytis problems in commercial flower operations.
Nell welcomes the opportunity to talk to members of the industry about these challenges and encourages contributions to the new research fund.  "AFE's goal is to have real solutions to these issues within the next three to five years through funding multiple projects each year, but without increased support, this could take longer.
Read more about the research and campaign, and access the Proflora presentations at http://endowment.org/botrytis-thrips/.
Behind the Scenes
In conjunction with the show, many farmers invited visitors to tour their operations. Guests got a firsthand glimpse of postharvest techniques, sustainability efforts (such as using a rainwater collection system) and social programs to benefit workers and their families.
For example, Alexandra Farms hired a cook to provide warm, nutritious meals to fuel the staff. The company splits the cost 50/50 with employees, said president Joey Azout. Additionally, his HR department walks workers through the process of purchasing a house and offers seminars on topics such as conflict resolution and financial management to help people enjoy more peace at home.
"Traditionally, this is a very chauvinistic society, where men have all the control and abuse their wives," he said. "But things are changing, as women have more and more opportunities to become breadwinners. We want to empower them with tools that go beyond a salary to help them succeed."
At Rosamina, a protea farm, school-age girls from the Santa Maria Foundation performed a classical music concert for visitors. Founded in the United Kingdom, the foundation offers English and music lessons to empower orphaned and at-risk young women in Colombia — and receives support from several in the Colombian flower industry.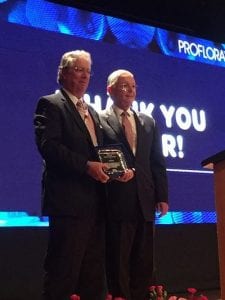 A Heartfelt Sendoff
Near the end of the Proflora welcoming ceremony, Solano honored retiring Society of American Florists CEO Peter Moran for his 33 years of service. Moran is retiring from SAF  at the end of the year.
"The Society of American Florists has been a friend to Colombia for many years," he said. "Peter's support has been key to our success. We thank him for his hard work and we will miss him."