Bridal shows are great opportunities to snag new clients, but they can be overwhelming, especially if you work in a city known for destination weddings, such as Charleston, South Carolina.  Even celebrities, such as Blake Lively and Ryan Reynolds, chose the Holy City (filming location for "The Notebook," incidentally) as the place to tie the knot.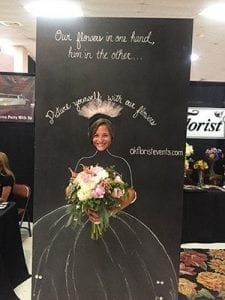 Charleston, South Carolina florist Karen Powell invites brides to "try on" her flowers.
---
Karen Powell, of OK Florist, estimates that Charleston bridal shows, which she attends twice a year, draw between 300 and 600 brides — and 60 to 75 vendors.
That's a lot of competition in one room.
To stand out, she makes her booth interactive. She brings along wedding gowns she sells at her shop for them to try on, along with seven styles of bouquet. She also brings a plywood board painted with a bride in a ball gown and veil, with cutouts for the head and the arms. Across the top reads, "Picture yourself with our flowers."
"It's a great way to draw them in," said Powell, who credits the idea with fellow SAF member, Norris City, Illinois designer, Jodi Duncan, AIFD. "Brides love taking photos and seeing how they look holding the different styles." And when they post the images to Instagram and Facebook, they tag OK Florist, per Powell's request. Consequently, she collects contact information to interact with them — and gets her shop's name in front of all their friends and family.
Powell's also developed an edge by forging a relationship with the show organizer, who asks her to design bouquets for the show's models and provides her a discounted booth rental price in return. (Her name shows up in the show's program. Powell didn't want to attach tags to the bouquets, as they'd detract from their aesthetics, she said.) The organizer has also referred Powell to other vendors who've paid her to design flowers for their booths.
When the show's done, you should follow up with the brides as soon as possible, ideally within 72 hours. "It keeps the momentum going and keeps you ahead of the competition," Powell said. The day after the Charleston Bridal Show, July 26, she personally emailed nearly 90 brides, and, within the week, scheduled more than 10 of them for consultations.
Get more inspiration on how to maximize the value of bridal shows – and maximize your closing rate with brides, in the August issue of Floral Management.