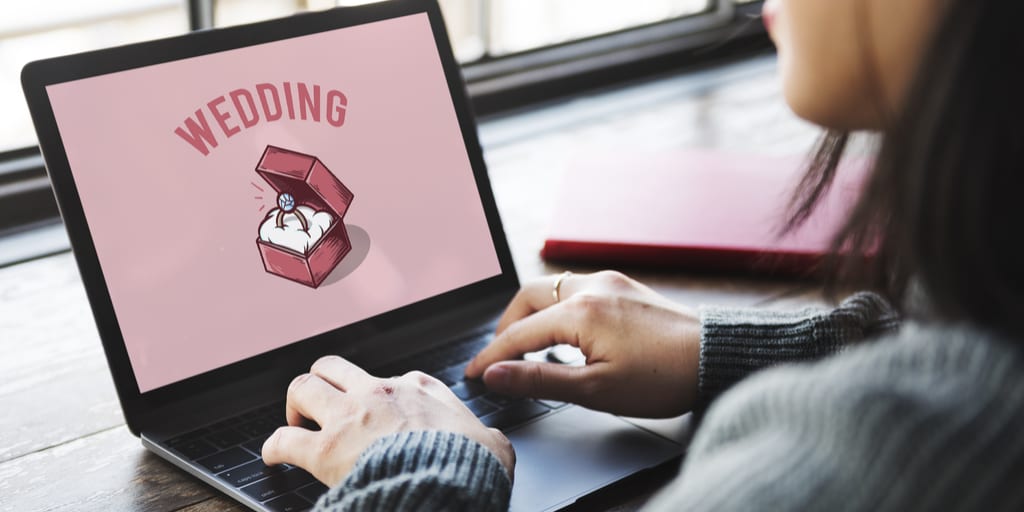 If tradition continues, droves of women around the country now sport a sparkly new accessory on their left hands, thanks to all those holiday and New Year proposals. Unlike the brides who came before them, however, these overjoyed ladies won't be rushing out to Barnes & Noble to purchase piles of glossy magazines to gather ideas for their nuptials — their research likely will unfold online, primarily on social sites.
As it has done with oh-so-many industries, the Internet's ever-increasing dominance has spurred an evolution in bridal media, which really came to a head in the past 12 months.
"I would contend that 2018 has been the biggest year of change in wedding media in the last 10 years, bar none," said veteran wedding publicist Meghan Ely, founder of One Fine Day Consulting, in a recent Fashionista feature story.
In June, Martha Stewart Weddings closed its quarterly print magazine to focus efforts on a two-pronged digital approach — marthastewartweddings.com for editorial content and mywedding.com as an online planning tool. In August, facing $120 million in losses, Condé Nast put Brides, along with Golf Digest and W, on the sales block. Five years ago, Brides scaled back from a monthly to bimonthly schedule; last winter, the brand unveiled a millennial-targeted redesign and new strategy with a stronger digital focus.
It's not just print publications getting pinched, though.
In late September, two bridal behemoths, WeddingWire, Inc. and XO Group (which owns The Knot), announced an impending merger for early 2019. The popular blog, Style Me Pretty, which was bought by AOL (now Oath Inc., a subsidiary of Verizon) in 2012, shocked many in the industry when it shut down in April. (The original owners, Abby and Tait Larson, saved the day by buying it back for a revival the following month.)
These changes come as no surprise to florists who've observed distinct changes in wedding consultations in recent years.
"Sadly, no one gets wedding magazines anymore," said Zoë Gallina, AAF, creative director of Botanical International Design Studio in Tampa, Florida. "Girls today are obsessed with Instagram and Pinterest."
Heather Waits, owner of Bloomtastic in Columbus, Ohio, and Profitable Weddings, concurred.
"As much as I love reading a good magazine, brides do not turn to traditional outlets for research anymore," she said. "I haven't had a bride bring me magazine clippings in at least a year. I don't have many brides bringing me pictures from Style Me pretty anymore, either. It's all Pinterest!"
News of The Knot and Wedding Wire merger, on the other hand, shocked and troubles her.
Waits was a long-time Wedding Wire advertiser, until about three years ago, when the quality of leads dropped. "I canceled and put that money into The Knot and never looked back," she said. Since upgrading to become a "Premiere level advertiser" with The Knot, the site has become her no. 2 source for finding and booking clients — just behind referrals.
"The Knot has the go-to reputation with brides," she said. "They definitely use it! This merger concerns me, and the outcome may change our marketing strategy for weddings."
She has already shifted her marketing somewhat, putting increased attention on her Instagram account.
"Brides show us images on Pinterest, because it's a virtual bulletin board and a convenient place to 'collect' ideas," she said. "But when it comes to finding vendors and ideas, they go to Instagram. At least a dozen brides first contacted us through the site's direct messaging, though I am certain there are way more who discovered us there."
Waits posts to Instagram at least once a day (usually around 8 to 9 p.m.) and always includes local hashtags, such as #Columbuswedding or #Columbusbride.
"Instagram stories in particular have been getting a lot of views and attracting more followers to our feed," she said. "So I have been playing that up a lot with inspirational shots, such as images of a champagne wall to greet guests or a brownie cake with flowers."
Bridal media's old guard members may be fading away, "but Instagram isn't going anywhere," Waits insists. "I strongly encourage florists to develop a marketing plan for using it to gain leads."
Click here for tips on creating Instagram stories.
Want more of Waits' tips for booking brides? Check out these stories:
Katie Hendrick Vincent is the senior contributing editor of Floral Management.