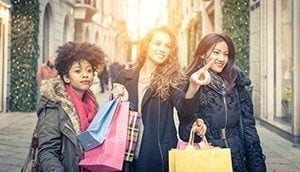 Most experts are calling for a robust holiday shopping season this year — and a new national survey indicates young adults (18- to 24-years-old) could lead the charge, metaphorically and literally, to increase spending.
"As Gen Z and Millennials gets older, their purchasing power increases, and the rise in disposable income is sure to be seen by retailers," said Matthew Shay, president and CEO of the National Retail Federation. "This group of consumers has spent time carefully researching gifts for friends, family and themselves, and are ready to begin knocking out their shopping lists."
The recent NRF survey found that 54 percent of consumers overall plan to spend about the same as last year, with 24 percent planning to spend more. But among those ages 18-24 — which includes the oldest members of Generation Z — 46 percent say they will spend more than last year. The next-closest group was those aged 25 to 34 years old, with 39 percent planning to spend more.
Also helpful for consumers looking for the perfect gift (and retailers eager to sell those gifts)? An extra weekend of holiday shopping in December.
"With an additional full shopping weekend this December, consumers will have plenty of time to browse and complete their holiday purchasing, whether it's gifts for others or décor for their homes," said Pam Goodfellow, an analyst with Prosper Principal. "Gift cards continue to be a popular low-risk option for gift givers, and this year we're seeing food increase in favor as well. As Americans look to celebrate with even more of the special people in their lives, food serves as a great way to come together."
Last year, a Society of American Florists' member post-holiday survey found that 46 percent of respondents experienced an increase in sales in 2016 over the 2015 December holiday season. About a third saw a drop. The remaining respondents said sales were flat. The average transaction was $67.
SAF also queried members last year about Thanksgiving sales and results from the major post-holiday shopping weekend. The results? A bit disappointing. About 43 percent of respondents said Thanksgiving sales were flat; 29 percent said they dropped.
Only 20 percent of respondents promoted special sales for Black Friday in 2016 and just 12 percent promoted deals for Cyber Monday. (About 44 promoted Small Business Saturday specials — but many questioned the value of that day once sales and foot traffic were tallied.)
Check out a detailed breakdown of holiday spending expectations from this year's NRF survey.
Look for more coverage of the holiday season in upcoming issues of EBrief and Floral Management. Plus, be on the lookout for SAF holiday surveys — coming soon to your inbox.