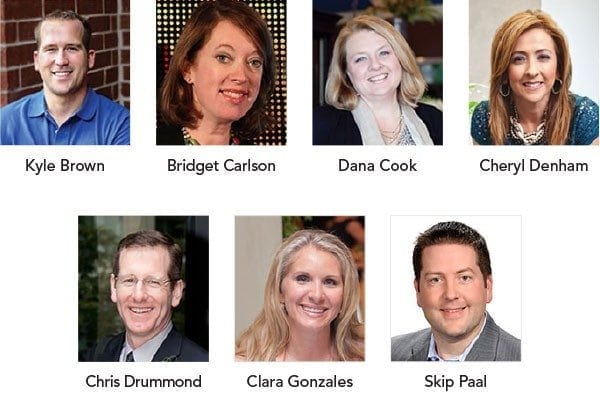 The Society of American Florists is tackling one of the potentially most lucrative — or disastrous — aspects of running a flower business, with insight from retailers who manage to fill every single Valentine's Day and Mother's Day order (even those that arrive at the 11th hour or in the middle of a snowstorm) without losing their sanity or profit margin.
Six seasoned floral business owners recently gathered to brainstorm how to teach the industry how to make more money at the holidays. They've pooled the tactics they use at their individual businesses to produce a comprehensive plan, which they'll present at SAF Amelia Island 2015 during a panel titled Holiday Hacks to Slash Stress and Boost Profits.
Holidays represent 23 percent of annual sales, said Paul Goodman, CPA, PFCI, author of The Profit Minded Florist and a regular Floral Management contributor, so florists stand to gain — or lose — plenty.
"Winning at a holiday is all about careful planning," Goodman said. "both for sales as well as staffing, in order to avoid overtime."
Industry experts coming to Amelia Island to share their strategies for doing that include: Kyle Brown, of Lone Star Bloom in Houston;Bridget Carlson, AAF, of Ashland Addison Florist in Chicago; Dana Cook, AAF, of Julia's Florist in Wilmington, North Carolina; Chris Drummond, AAF, of Plaza Flowers in Philadelphia; Cheryl Denham, of Arizona Family Florist in Phoenix; Clara Gonzales, of Tiger Lily Florist in Charleston, and Skip Paal of the Rutland Beard Group in Baltimore.
Their advice is broad and varied.
Brown, for instance, will share forecasting strategies to minimize shrink. "We usually have less than $500 of product left over at our 10 stores, and we never have to buy last-minute, premium-priced flowers from our local wholesaler to fill orders," he said. "We're able to dry pack anything that's leftover and incorporate it into the following week's orders."
Gonzales will explain the importance of creating a menu and how to tag and track arrangements. Before she had a system in place, the staff would get discombobulated trying to identify what was available as walk-in, phone and Internet orders came in at lightning speed, and would waste valuable time creating custom designs.
She'll also address the importance of delegating tasks. "The mindset 'it's easier if I just do it myself' will ultimately hold you back," she said. If you try to play sales person, designer, manager, delivery coordinator and processor, you'll just exhaust yourself and fall short in each position. "But, if you get the right person in the right role, they'll do well for you."
Early preparation that begins in late December allows Paal to schedule employees more efficiently. "They actually take a few days off during the peak week because, when they're rested, their production levels increase at crunch time," he said.
Other topics will include marketing strategies, delivery shortcuts and creative cost cutters.
Carlson, who reported "a very smooth Mother's Day with a great mojo," said she's already beefed up Ashland Addison's holiday plan from talking with her fellow panelists — and she expects convention attendees can contribute even more.
"I'm excited to share what's worked for us," she said. "The stronger we all are, the better experiences consumers across the country have when gifting flowers, and our industry, as a whole, will improve."