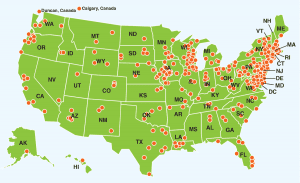 October 11, 2017, floral industry members in 467 cities in 50 states plus Washington, D.C., and Canada led 573 local Petal It Forward events. They randomly surprised people on the street with flowers. Lucky recipients received two bouquets — one to keep, and one to share with a friend, family member, co-worker, or even a complete stranger. There were a lot of smiles going around as the country experienced flower power. Follow the fun #petalitforward and check out these links:
---
Capitalize on Petal It Forward to Promote Your Shop
Whether it's paying for a fellow commuter's toll, or leaving a generous restaurant tip, "pay it forward" actions are all the rage. News coverage on people spreading kindness has evolved into an ongoing feel-good story on traditional and social media channels across the U.S.
The floral industry can take part in this feel-good trend through SAF's Petal It Forward campaign, leveraging study findings on how flowers have an immediate impact on happiness and a long-term positive effect on moods (and that people report the best reason to receive flowers is "just because").
Petal It Forward illustrates the positive benefits of giving and receiving flowers, positions your business as a do-gooder, increases employee morale, and can increase your visibility in the community through local media coverage.
Click here for step-by-step instructions on how you can do your own Petal It Forward event.