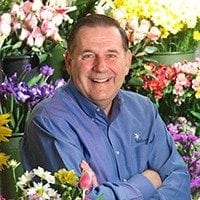 Teleflora has announced the final 10 nominees in consideration for the 3rd Annual Tom Butler Retailer of the Year Award.  This year's recipient will be announced and honored at the American Floral Endowment (AFE) Fundraising Dinner on September 7th in conjunction with the SAF Palm Beach 2017. In 2015 Teleflora established the Honorary Award to honor Tom Butler, Teleflora's past Chairman, who dedicated his life's passion to the floral industry. The Award recognizes a retail florist and Teleflora member that best embodies Tom's legacy. In addition to running a first-class retail operation, award winners show the highest level of commitment and service to their local community, are a dedicated ambassador to the floral industry, and provide leadership and guidance to fellow florists. This year's contenders are:
Check out the final nominees at MyTeleflora.com. Some brief biographical information about Tom Butler, known as "Chief Champion of Florists":
Tom Butler served as the Chairman of Teleflora since 1995 and led Teleflora in its mission to serve as a trusted business partner, friend and innovator to independent retail florists across the U.S. and Canada.
Tom's passion for the floral industry inspired an almost 50-year career. He was past Chairman of the American Floral Endowment and a longtime devoted advocate for the Endowment, beginning his service as a trustee in 2006. Known for possessing an unparalleled knack for fundraising and for his significant interest in expanding and improving the Endowment, Tom's commitment to giving and innovation continues within the floral industry through the Tom Butler Family Fund that helps provide funds to support The American Floral Endowment's research and grant efforts. Among his many roles and accomplishments, Tom served as the Chair of the AFE Development Committee and a Trustee on the AFE Board; TI World President; Member of the American Academy of Florists; Professional Floral Communicators International; Society of American Florists (Past Board of Directors).  He was also a member of numerous national floral and state floral associations, recipient of SAF's Hall of Fame Award and Paul Ecke, Jr. Award, Florida State Florists' Association Hall of Fame Award and Lifetime Achievement Awardand Place in the Sun Award; Michigan State Florists' Association Award of National Industry Service; Michigan Floral Foundation Hall of Fame Award; Arkansas State Florists' Association Distinguished Service Award and Oklahoma State Florists' Hall of Fame.
Tom passed away in August 2014 after a battle with cancer. For many who knew Tom, he was considered to be the 'Chief Champion of Florists' – always there when they needed him, always understanding their issues and concerns, and always representing their cause.