Is Administrative Professionals Week an under-marketed observance filled with potential — or a has-been floral event that confuses its target market and frustrates florists?
The answer — according to results from a Society of American Florists' post-holiday survey — may depend on where a florist is located and how much he or she is willing to promote the weeklong celebration, held this year from April 24 to April 30.
Overall, the survey found that 35 percent of respondents experienced flat APW sales this year. Thirty-three percent saw a decrease and 29 percent experienced an increase.
About 37 percent of respondents said the number of APW transactions remained on par with 2015 transactions. Thirty percent said they decreased; a quarter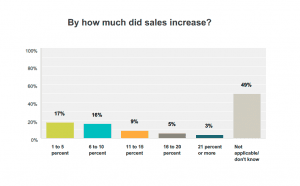 saw an increase. (The average transaction for APW was about $45, roughly on par with 2015 numbers.)
Among those who increased promotion efforts this year, however, 64 percent saw an increase in sales (42 percent of those respondents said the increase was between 6 and 10 percent) and 64 percent said the number of transactions increased.
At the same time, 41 percent of respondents who decreased promotional efforts or did not promote the holiday at all experienced a sales decrease.
"If you don't promote [APW] in an aggressive way, you won't make the sales," wrote one florist out of Connecticut. "You have to get to the owner of the companies. That is a marketing challenge for flower shops that are blocked by the staff that screen the marketing calls."
Another respondent in San Antonio, Texas, clearly disagreed with the idea that APW has room to grow.
"[APW] is a dead horse," he wrote.  "Time to stop beating it to death."
In write-in responses, retail florists speculated that the location of a business — urban, suburban, small town or rural — likely plays into results. Their thinking: APW is an easier sell in dense urban areas.
Survey results support that hypothesis. About 38 percent of urban respondents saw a sales increase, compared to 34 percent of suburban respondents, 28 percent of small town respondents and 27 percent of rural respondents.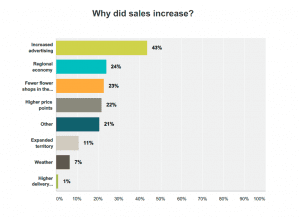 Many respondents noted that florists face an uphill battle for APW success. The observance comes at a busy time, when florists are juggling prom work, Mother's Day prep and springtime weddings, and it's not a well-known event among consumers. (The event has been observed in the U.S. for decades but the International Association of Administrative Professionals changed the name from Secretaries Week in 2000, following a name change for the association itself in 1998.)
The name change left many consumers wondering about the definition of an "administrative professional," according to write-in responses, and that confusion has hit florists hard.
"It has been steadily decreasing over the years," noted a florist in southern California.
One respondent from New Jersey said his business has reverted to the former name for the event, at least in part, with good results.
"We started to refer to it as Secretary's Day as well as APW because I had heard that using the older less politically correct name helped some shops increase activity," he said. "It seemed to work.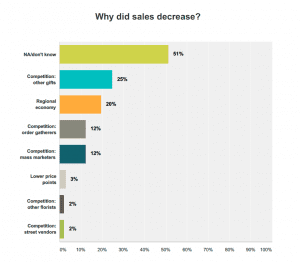 Good Returns Credited to Promotions
Among all respondents who saw APW sales increase, 17 percent said the rise was between 1 and 5 percent and 16 percent said it was from 6 to 10 percent. Nine percent saw an increase between 11 and 15 percent; 5 percent said it was 16 to 20 percent and 3 percent said it was 21 percent or more.
About 43 percent of respondents who experienced a sales increase attributed to the change to increased shop advertising and promotions. About a quarter credited the regional economy while 23 percent pointed to fewer flower shops in the local area and 22 percent said they benefited from higher price points. Eleven percent noted an expanded territory or new location as a factor and 7 percent mentioned the weather.
A florist in Northern California noted that his successful returns were tied in part to APW ideas and selections "[added] to our website, social media and house signage."
In Georgia, another respondent said she was pleasantly surprised by results — but many orders came in when the clock was a'ticking.
"We did not expect to have many orders for APW as the holiday has seemed to dwindle in sales for a number of years," she said, adding that orders came in "mostly the day of, last minute."
Competition, Economy Blamed for Losses
Among respondents who saw APW sales decrease, 14 percent said sales dropped up to 5 percent and 11 percent said the decline was by 21 percent or more. About 10 percent said the dip was between 6 and 10 percent and 9 percent reported a drop-off of 16 to 20 percent. Eight percent said the decline was 11 to 15 percent.
A quarter of respondents who saw a decrease blamed competition from other gifts (non-floral vendors) and 20 percent laid the blame on their regional economy. About 13 percent said order-gatherers might be behind the drop and 13 percent said it was competition from mass marketers and supermarkets. A small percentage of respondents—about 3 percent in each case—blamed lower price points, competition from other florists and competition from street vendors.
"Seems like flowers are being replaced by more nontraditional gifts like lunches and gift certificates," said one respondent, in Pennsylvania.
Another respondent, also in Pennsylvania, however, saw an important benefit to those lunches: awareness.
"Most [of our] orders came from a company that has a lunch for the women, so that reminds the bosses that [APW] is here," she said.
Other highlights from the survey include:
Cut Flowers for the Win. Respondents said that, on average, 79 percent of APW sales were cut flowers and 11 percent were green plants. Thirteen percent were flowering plants.
Promo Power. About 60 percent of respondents said their level of promotion for APW was on track this year with 2015 efforts. Eighteen percent increased their efforts and 5 percent decreased them. About 13 percent didn't promote the holiday at all.