In Greenville, South Carolina, Staci Bryant is taking prom seriously — and that means she's having a whole lot of fun on Facebook and Instagram, to the delight of her customers.
"We love prom and feel it is a great way to cultivate new clients," said Bryant, who for the past few weeks has been regularly posting beautiful shots of unique corsage and boutonniere designs, along with a video tour, tips on choosing the right look for each dress and cheeky pop culture call-outs. "Our goal for 2017 is to make sure that we are not just taking care of our existing clients but going out and showing our potential clients all that we have to offer them."
So far, the shop, Expressions Unlimited, has received a positive response from customers. In fact, Bryant's been amazed by the reach of the platforms.
"We have people from all over the region and country calling and direct messaging us about our cool corsages," Bryant said. "That's the part that is really interesting, because you think locally but realize that through Instagram and Facebook and other social media you are touching so many more people than locals."
By proactively showing the breadth of their abilities, the shop has also attracted a new, non-prom demographic through its posts.
"People are calling us for daddy-daughter dances and weddings, because of the pictures they have seen on our accounts," Bryant said.
Here are some tips from Bryant on how to make your prom work pop on social media.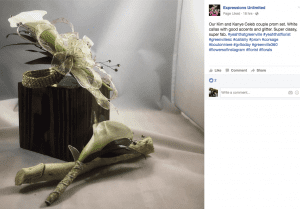 Be a trendsetter. While Bryant is happy to showcase stunning shots of traditional designs, she often puts the focus on one-of-a-kind corsages and boutonnieres that are on-trend and in-demand — things that prom-goers can't pick up just anywhere. Recent posts highlighted include succulent corsages with hammered gold cuffs, succulent rings and a rosette succulent corsage on a statement gold cuff. One thing you won't see on the shop's social media pages: out-of-focus images or stock photos. Everything the store features is original and the photos are crisp and clear.
Show the goods. This year, Expressions Unlimited's prom theme — and yes, the shop has its own theme — is "Enchanted Forest," and in a recent 60-second video, Bryant walked prospective customers through the shop's dedicated prom space, highlighting the fact that customers can come in and see (and touch) flowers, ribbons, bracelets and bling. The messages: We have TONS to see and we're approachable, teens! "We're so excited for prom," Bryant says cheerfully at the end of the video. "We're looking forward to seeing you in here. Come on in we'll help you make sure to pick out the best corsage for prom 2017. See you soon!
Have fun. Prom is serious business for Bryant, but she keeps the posts lighthearted, even silly. A recent caption for one school's fast approaching event read, "If you forgot your flowers, no PROMblem" with a winking emoji. Another post heralded the shop's "Kim and Kanye Celeb Couple Prom Set"—the designs featured white callas with gold accents and glitter — as "super classy, super fab." Bryant often communicates the store's pride in being local and a go-to source for trendy prom items through personality-filled hashtags including #yeahthatflorist and #yeahthatgreenville. (The shop has a long history of having some fun with prom. Read about their Chicken McNugget boutonniere in 2014 — a play on a campaign that year spearheaded by KFC and Nanz & Kraft Florists that centered on a fried chicken corsage.) Not sure what exactly to write in your own social media captions online? Look for detailed, expert advice on how to master and maximize captions in the April/May issue of Floral Management — in your mailbox and in-box soon.