If scientists developed a human gene for romance, would the trait be passed on through women or men? According to an SAF nationwide poll, men put the "MAN" in romantic. The survey of 1,000 men and women revealed:
Eighty-five percent of men believe that simple romantic gestures – such as breakfast in bed and giving flowers – are important to relationships, as compared to 75 percent of women. The message: Men love romance as much as women, and the good news for men is that being romantic is easier than ever.
The research also uncovers the key to great romance – simplicity. According to the survey, 84 percent of women can remember the last time they received flowers. The message: Simple romantic gestures, like giving flowers, create enduring memories.
Promoting the Great News to Consumers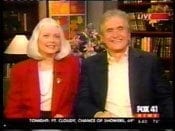 SAF is using the survey findings to promote flowers as a key element in romance through a strategic public relations program. Designed to generate valuable print and broadcast media coverage, SAF's campaign features Drs. Judith Sherven and James Sniechowski as spokespersons in a satellite television tour and consumer press kit. The psychologists' advice to consumers includes the inside scoop on cultural trends in romance, and practical tips for using flowers and the expertise of professional florists to enhance relationships.
To launch SAF's Romance in America campaign, Drs. Sherven and Sniechowski conducted television interviews in 19 cities coast to coast, including: Boston, Philadelphia, Orlando, Louisville, Columbus, Green Bay, Minneapolis, Phoenix and Sacramento.
In these interviews – broadcast via satellite from New York City – Drs. Sherven and Sniechowski included flowers in their advice to viewers on how to be more romantic: "Say I love you every day, take walks together and hold hands, leave love notes for each other, call your florist and surprise your sweetheart with flowers at work…".
To strengthen the message, Dr. Sherven also shared a real-life example in the interviews: "Jim and I have been married for 14 years and he still sends me flowers, just because. I love it!"