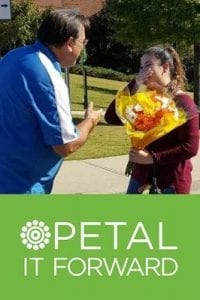 Call it the do-gooder or feel-good effect: According to a Unilever study, a third of consumers choose to buy from companies that promote environmental or social messages, and, according to Cone Communications, 74 percent of employees say it's fulfilling when they get to do something good on the job.
This fall, the Society of American Florists will help floral industry members tap into both impulses with Petal It Forward 2017 on October 11. SAF is leading the industry for the third year in this feel-good giveaway to remind consumers and reporters how great it feels to give and receive flowers. Its premise: People receive two bouquets — one to keep and one to give away and post a picture about it using the hashtag #petalitforward.
Many of the florists who held Petal It Forward events last year are planning bigger giveaways this year.
"We crushed Petal It Forward for 2016," said Staci Bryant, general manager of Expressions Unlimited with four locations in South Carolina, who plans to give out 1,200 bouquets in October. "It resulted in a huge response of people following us on Instagram and Facebook within 24 hours of the event."
Bryant's team is among the 41 local events already in the works as suppliers, growers, wholesalers, and retailers in 27 states and Canada commit to Petal It Forward 2017.
"It was great how people reacted on social media," Bryant said. "We saw pictures of our flowers all over private Facebook and Instagram accounts, and we were even tagged. That was fun to know that we had a part in brightening someone's day enough to make it to their News Feed. When you participate in Petal It Forward, the ROI is immediate. You get to see how what you do every day impacts people."
SAF makes it easy to Petal It Forward. Check out the step-by-step advice and materials available exclusively to members at safnow.org/petalitforward. If you plan to hold an event on Oct. 11, fill out the participation form at safnow.org/pifform. This will help SAF compile a list of Petal It Forward events to show the media it is happening all over the country.
"With your help, Petal It Forward can happen in all 50 states again," said SAF Vice President of Marketing Jennifer Sparks, "which could help capture even more media attention."
The 2016 campaign included 262 events in 234 cities in all 50 states plus the District of Columbia, generating more 328 million consumer impressions showcasing the positive impact flowers have on emotional well-being.