Floral Management Magazine
October 2017
Floral Management's Online Edition is available only to SAF members or magazine subscribers.
Want to read Floral Management and not yet a member of the Society of American Florists or a subscriber of the magazine? Look here for the great benefits of being a member of SAF.
Subscribe to Floral Management Magazine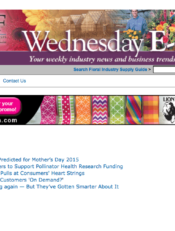 Your weekly source for the latest industry news
— delivered right to your in-box every Wednesday evening.
SAF Members — E-Brief is a free member benefit. If you're not receiving it, we may not have your current e-mail address: Please to let us know.
Washington Week in Review is a free, electronic newsletter which
— Capitol Hill activities of interest to the floral industry. It is available to SAF members free of charge upon request every Friday that Congress is in session. To receive a faxed or e-mailed copy of the newsletter every Friday, contact SAF.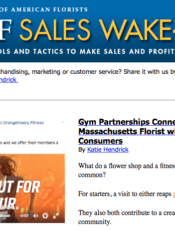 New business-boosting ideas every week.
SAF's compilation of the latest sales tips and other news posted on the SAF Website — arrives in retailers in-boxes every Saturday morning.