As an SAF member, you can take advantage of a range of discount programs and services from our many business partners. These services help you to build your business, save money, and improve your bottom line.
---
---
Sales Training with FloralStrategies
*Free Test Call Exclusively for SAF Members*
SAF is very excited to offer a FREE test call ($50 value) to your shop. This is an exclusive opportunity to have Tim Huckabee, AIFSE, from FloralStrategies, call your shop undercover as if he were a regular customer and then evaluate your sales team.  You will get a report and a chance to speak with Tim about a plan to improve sales and service at your shop.  Tim's methods are proven and you are guaranteed to generate more and higher sales than ever before!
FloralStrategies is an excellent source for business education and training in the floral industry, having helped thousands of retail florists around the world since 1997. Whether your goal is to increase sales, improve service, sharpen your staff skills or all of these, President Tim Huckabee, AIFSE has the expertise and experience to give you potent results you will see immediately.
Call Tim today at 800-983-6184 and start making more money in your shop!
---
NSF (bounced check) Recovery
checXchange Mobile™ is a revolutionary new app that allows you to use your Android, iPhone or iPad to simply scan all bounced NSF checks that you receive and send them to our processing center in a secure environment for recovery. checXchange Mobile ™ is NO COST service and 100% of all recovered items are transmitted to your account upon recovery.
Also, with the checXchange Mobile™ App:
There is NO COST to use the service 100% of recovered funds returned to your bank account within 7 – 14 days
All recovered funds are transmitted to your bank account each Friday
Keeps you out of the collection business
Gets you paid for the goods and services you deliver
100% secure & encrypted from end to end
Comprehensive online reporting
Fast, simple enrollment and setup
---
Consult with An Expert — FREE
Free Legal Advice From a Small Business Attorney
Have a question and want to talk to a lawyer about it for a few minutes without running up a huge bill? Give our legal eagle a call. SAF partners with Paley Rothman, a Bethesda, MD law firm, so you can get fast, free answers to a variety of business legal questions. Call Paula A. Calimafde at 301-951-9325 and be sure to mention that you are an SAF member.
---
Connect to the Industry's Insurance Expert

SAF's endorsed business insurance carrier is Hortica
Since 1887, Hortica has been uniquely focused on the floral industry and has a vested interest in the success of both the industry and your business. In addition to offering standard property, liability and auto coverages, Hortica also provides customized protection for loss of flowers, plants and profits; buildings, including greenhouses; lost profits from communications equipment failure; and safety/loss control services. SAF and Hortica have a long-standing partnership and work together to develop programs to benefit SAF members including SAF's Health Insurance Plan and discount prescription drug card. To learn more or request an insurance proposal, contact 800.851.7740 or www.hortica.com.
---
Free Discounted Prescription Card
Have expensive prescriptions or don't have insurance all together? Looking for an added bonus for your staff?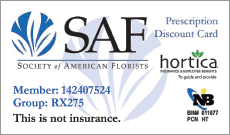 SAF is now offering a FREE DISCOUNT prescription drug card that makes you eligible for discounted prescriptions even if you don't have health insurance or if your provider doesn't provide a card like this. You can request one for yourself, your spouse, your designers and the rest of your staff. The card works whether or not you have insurance. Check prices at rxpricequotes.com and use whichever gives you the better deal — your insurance or the card. Download the card at www.nbdrugcard.com/DrugCard.aspx?ID=RX275. Or call Med One Select at 866-717-1471, and cards will be mailed to you!
---
SAF Wholesale Staff Training 
SAF's newest program — Wholesale Staff training, in your wholesale location. Have your staff trained by Tim Huckabee, president of FloralStrategies, Inc.
Joint venture between SAF and FloralStrategies, Inc.
Wholesale Staff sales training with live calls to current customers
Making better use of technology to build business — order taking, web tools and much more…
New skills, language and direction for making OUTBOUND cold calls to prospective customers.
Contact SAF to get more details on pricing, timing and scheduling your training.
---
FREE Personnel Management Tools at your Fingertips
Human Resources Toolbox SAF members have free access to human resource management tools tailored specifically for the floriculture industry. These valuable resources include an employee handbook, employee job descriptions covering various positions in retail, grower and wholesale establishments, plus links to government agencies to assist you in compliance and provide you with additional materials. Click the following links below for: Pre-written Employee Handbook to provide your employees with a clear understanding of work-place standards and policies while dramatically reducing your liability in case of an employee dispute and/or lawsuit. Industry Specific Job Descriptions to clarify employee roles and responsibilities and to write better employment ads. Reference Materials such as forms and posters that labor laws require you to complete or display in the workplace, including OSHA manuals and posters.
---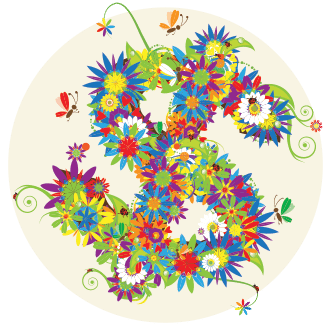 The Price is Right. (Or is it?)
FREE SAF Pricing and Wedding Flower Spreadsheets
Your growth is our business. To help you grow SAF has two spreadsheets that can help you control your Cost of Goods Sold and also help the brides-to-be set up their floral budget. These valuable, SAF member created tools will help you develop current and accurate pricing, and assist your bridal customer with their budget planning. Retail Pricing Worksheet a downloadable excel spreadsheet to help you determine the most effective pricing structure. Wedding Flower Calculator a downloadable excel spreadsheet to help you determine customers set their wedding flower budget.
---
Find the Right Supplier Fast
With just a few clicks, find everything you need with this one-stop, searchable source for wholesalers and distributors of hardgoods, gift items, fresh product and business supplies. Connect with new suppliers to find unique containers, accessories, gifts and other items to keep your product mix fresh and exciting and to keep customers coming back. Also, comparison shop to find the best price on the flowers and hardgoods you need.
---

It Pays to Save
Eliminate the time-consuming chore of payroll and benefits administration with expert, confidential services from Paychex, Inc. We provide Society of American Florists members with comprehensive, accurate, and affordable payroll and HR services tailored for your business. Services include:
Payroll Processing
Payroll tax services
Retirement plans
Workers' compensation
Insurance services
And more!
Best of all — SAF members save 15% off Paychex Payroll Processing services and HR services setup fees. Call today for more information, 1-800-729-2439, and mention code 5743. Visit www.paychex.com for more information on all their services.
---

Keep Your Deliveries Moving
Managing your fleet is taking you away from what you do best – managing your business. Enterprise Fleet Management provides SAF members cost-effective and comprehensive fleet management solutions in the areas of: vehicle acquisition, maintenance management, insurance programs, vehicle disposal, fuel programs, license and title renewals, and monthly reporting. If your business has between 15 and 125 vehicles, call Enterprise Fleet Management today to find out how you can start improving your cash flow. Visit their web site at www.efleets.com or call toll free at 877-23-FLEET (877-233-5338) for details regarding individual member savings.
SAF is certified as part of the Ford Customer Association Incentive Program. This means SAF members with an active Ford Commercial Fleet Identification Number (FIN) can receive discounts on select new vehicle purchases. Eligility requirements are as follows: Registered or leased for use in operation of 5 or more new vehicles (any make or model) during the current or preceding calendar year OR currently operates a fleet of 15 or more vehicles (any make or model) Register for a FIN at fleet.ford.com or call 877-530-9953 for details.
---

Save When You Ship
As a member of Society of American Florists, you are entitled to special savings on select FedEx services.  It's the FedEx Advantage – another benefit for the members of SAF.  Members save up to 21% on select FedEx Express® services and up to 15% percent on select FedEx Ground® services. SAF members saved nearly $30,000 on shipping in 2014. To start saving today, go to www.fedex.com/saf and enter passcode R91YMF01 or call the FedEx Advantage hotline 800-475-6708.
---

Drive Away with a Bargain
Your SAF membership can help you save money when you rent a car from Avis. As an SAF member, you're eligible for discounts of 25% off Avis' standard and super value weekly rates and 5% off their already reduced weekend rates at all participating locations. For more information, call 800-331-1212 and mention your SAF Avis Worldwide Discount (AWD) number: B364000. Or visit http://www.avis.com/members/B364000.html
---

Save Big on Car Rentals
Budget
"Do it different, do it better" with low competitive rates and special discounts for both business and leisure rentals with your SAF Budget membership discount! Whether you are renting at the airport or in your neighborhood, receive up to 25% off promotional rates on your next rental. For more information, call 800-527-0700 and mention the SAF Budget Customer Discount (BCD) number: Z859900. Or go online to see the latest and greatest offers to save you even more: http://www.budgetcarrental.com/budget/assoc/index.html?Z859900
---
Exclusive Fuel Saving Benefit for SAF Members in DC, Maryland, and Virginia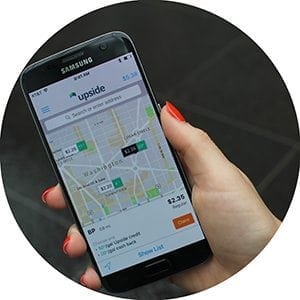 We're always looking for ways to support you, and since your delivery business demands frequent trips to the gas station, we're excited to share the free Upside gas app with you. 
Upside is a free app that helps you and your drivers find the very best deals on gas, by giving you cash back per gallon — up to 50¢. And as SAF members, you can get an extra 20¢/gallon on your first fill-up — on top of whatever great deal you find — click here to login and get the special code for your exclusive offer. 
The app works at 650+ gas stations in the DC-metro area, including all the big brands, so there's no need to go out of your way for the best deal. And the cash can really add up: top Upside users earn $362/year just for buying the gas they needed anyway.