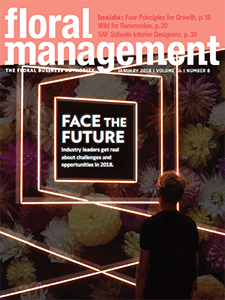 The economy is good. The geopolitical scene is less certain. Consumers are confident. They also have more choices than ever, and they still spend far differently on flowers by generation. Social media and the internet give small business owners tools they never dreamed of — those
same tools, though, often require high, sometimes overwhelming, levels of time and energy to maintain. Certain costs are higher, some supply chain standbys and standard processes are changing, and employees — reliable, dedicated workers — are still tough to find and keep, a tough predicament as some longtime floral industry members get a little grayer and look to pass the torch to the next generation.
Welcome to 2018, a new year with plenty for the floral industry to be excited about and also no shortage of challenges (new and long-standing) to work through. This month, Floral Management talked to heads of national companies and groups and some of the Society of American Florists' longtime volunteer leaders to find out what they are worrying about, strategizing over and feeling good about in this new year. Read more.