SAF PR Campaign Ties Flowers to Top Consumer Trend
Tips to create a clutter-free, organized home and make any room go from drab to fab capture the imagination and attention of consumers and the media. SAF is capitalizing on this popular trend.
Through a strategic public relations campaign, SAF is making sure flowers, plants and florists are among the simple tips the media reports for achieving an uncluttered, more aesthetically pleasing, guest-ready home. SAF's Home Makeover campaign leverages the power of a celebrity spokeswoman and targeted pitching to key media.
Key Messages
SAF worked with organizational expert Vicki Norris, author of Restoring Order™ to Your Home and a regular contributor on HGTV's Mission: Organization, to develop the tips and talking points for its Home Makeover PR campaign. In interviews, Norris emphasizes flowers, plants and florists as easy ways to create and maintain a beautiful home.
Norris' how-to advice to keep the top three public spaces in the home guest-ready at all times includes:
The Entry Way: The entry way is the easiest place to drop shoes, coats and handbags, and it is the first space that guests see, so the focus in this area is clutter control. Welcome your guests with an inviting display of family photos, a favorite collection, or fresh flowers to suit the season. Having these items on tables actually will prevent future clutter from collecting. Also, a strategically placed floor plant can divert attention from less appealing areas.
The Kitchen: The kitchen naturally and almost effortlessly has a way of accumulating papers, mail and a variety of misplaced possessions. Yet, it happens to be the most popular place in the home to invite guests. Start a reference binder to create a permanent home for take-out menus, coupons, and commonly reached-for phone numbers such as the dry cleaner, your florist, hair stylist and movie theatre.
The Family Room: This household superhighway is the most trafficked room in the home. Set up a "go-elsewhere" basket, so at the end of each day you can relocate items that don't belong in the family room to their proper place. Beautify your interior landscape with flowers or a plant to reclaim the space and make it a nice place to spend time in.
For more Home Makeover tips, visit www.aboutflowers.com.
Strategic Promotion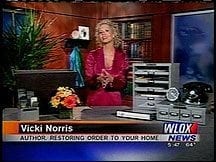 SAF launched the Home Makeover public relations campaign in April 2007, with a satellite media tour. It featured Norris dishing advice on TV and radio morning news programs in 16 cities coast-to-coast, including:
Boston
Charlotte, N.C.
Eugene, Ore.
Kansas City, Mo.
Philadelphia
Portland, Ore.
Reno, Nev.
Sioux City, Iowa
Toledo, Ohio
In these interviews broadcast via satellite from a Washington, D.C. studio, Norris told viewers: "Once you've organized and personalized your space – flowers or a plant are great ways to brighten a room and maintain your newfound order."
Additional broadcast packages featuring advice from Norris were distributed to TV and radio stations nationwide, reaching an estimated more than 6 million consumers.
The launch continued with the distribution of a press kit to national and local print media, targeted outreach to key media outlets, and 24/7 coverage on SAF's consumer Web site, www.aboutflowers.com. All of these combined efforts work together to put the floral message in the context of everyday news and create top-of-mind awareness of flowers among consumers.