SAF PR Campaign Illustrates Colors of Emotion

The power of color is well established. Throughout time, nature's spectrum has had a vital impact on our everyday lives, from the color of our walls, to our clothes, to our cars – and, even more meaningfully, our emotional responses.
Through a strategic public relations campaign called Flower Therapy, SAF is drawing on the powerful impact of color and emotionto educate consumers on how flowers in different color combinations can enhance (or adjust) feelings. The campaign, which positions florists as "flower therapists," also provides ordering advice and tips on selecting a florist.
Flower Therapy campaign combines insight from internationally-known color expert Leatrice Eiseman, executive director of the Pantone Color Institute and author of several books on color, with SAF's university research that shows the emotional benefits of flowers.
The program highlights five popular moods elicited through unique color combinations: Nurturing, Romantic, Sensuous, Tranquil and Whimsical.

Nurturing
A true sense of caring is created by a combination of colors that are fragile, soft and tender. Arrangements in pastel shades and the softest yellows, peaches, warm pinks, creamy whites and subtle greens make us feel safe, snug and loved. Consider a nurturing floral arrangement for a new mother, a sick friend or a grieving loved one – anyone who would benefit from a caring, loving embrace.
Romantic
A sensation of intimacy, nostalgia and comfort is captured in this color palette, a blend of delicate warm and cool colors with lavenders and pinks at its heart. Romantic arrangements express loving sentiments and admiration to mothers, sisters, grandmothers, aunts, best friends, significant others and brides-to-be.
Sensuous
The rich, luxurious color combinations of the sensuous palette set the mood for sophisticated, passionate and even seductive settings. Robust reds and purples, hot pinks and spicy oranges are at the soul of this dynamic floral feeling. Consider a sensuous arrangement for a very special evening or an elegant dinner party – anywhere you want to feel magnetic and extravagant.
Tranquil
Serenity and relaxation are the essence of this color scheme. Its peaceful palette, reminiscent of sky and sea, is dominated by clear, light shades of green, misty blues and other cool hues. A vase of tranquility is perfect for busy moms, harried professionals and those who seek a moment of calm from life's stressful situations.
Whimsical
Fun-loving, free-spirited, playful feelings are conveyed by the whimsical palette, which is characterized by bold, contrasting colors. Floral arrangements featuring these hues set an upbeat tone and are ideal for birthdays, graduations, promotions and other celebrations.
Promoting Flower Therapy to Consumers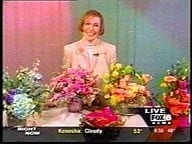 SAF is publicizing Flower Therapy to consumers through a strategic public relations campaign designed to place the floral message in the context of everyday news stories. Using international color guru Leatrice Eiseman as spokeswoman, SAF launched the campaign in 2004 through a satellite television tour: Leatrice Eiseman, SAF's Flower Therapy spokeswoman during the program's launch
In interviews broadcast via satellite from New York City, Eiseman told TV news viewers: "Everyone feels good when they get flowers because they create emotion. Flowers are an easy and affordable way to bring color into your life, and your florist is your best flower therapist."
The campaign also includes the distribution of a press kit to print media nationwide, coverage on SAF's consumer Web site, www.aboutflowers.com, and targeted pitching to national news shows and magazines to spotlight the unique benefits of flowers and the expertise of professional florists.