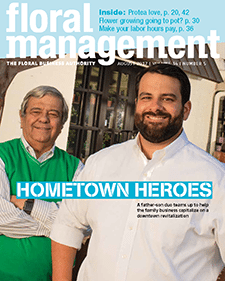 For Cameron Pappas, 28, and his father, Gus, 70, the revival of downtown Birmingham, Alabama, comes at a fortuitous time. With 300 residential apartment units currently under construction within a two-block radius of their downtown store, Cameron and Gus only have to step through the shop's front door to see the city bursting to new life.
The excitement has created a crossroads for the business: As downtown Birmingham grows, what can the Pappas do to recreate and revitalize a business founded in the 1920s, one that's done well in recent years but could use some updating and refreshing now? How can they make Norton's the go-to flower shop for all these incoming residents (not only millennials, but downsizing Boomers) and new businesses? And, as Gus's floral career enters a new phase and Cameron's career takes off, how can father and son work together to create a future for the business that both capitalizes on its history and makes way for new opportunities?
Read about their big plans in the August issue of Floral Management.