Congressional Action Days 2019
March 11-12, 2019
CAD Registration Fee Covers:
Breakfast and lunch on Monday and Tuesday
SmarTrip card for Metro transportation
Tuesday's bus transportation from the Ritz-Carlton Pentagon City to Capitol Hill
Tuesday's Hospitality Suite
Tuesday's Day's End Reception
Bring a first-timer with you – for FREE!
Your registration includes an additional FREE registration* for a second person from your company who has never attended CAD before. Offer not available online. Contact meetings@safnow.org.
* Second registration must be a first-time attendee. Offer not available online.
Online CAD Registration and Rates Information Coming Soon!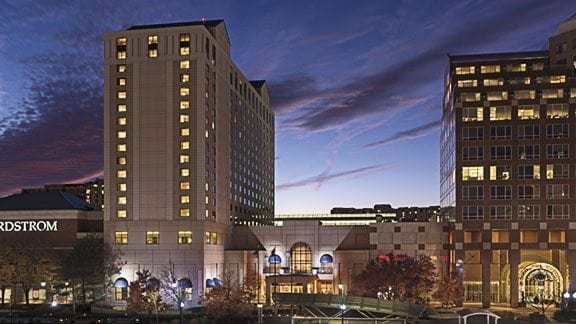 Congressional Action Days 2019
Hotel and Travel Information
CAD Hotel
The Ritz-Carlton Pentagon City
1250 South Hayes Street
Arlington, VA 22202
The cut-off date for guaranteeing the SAF room rate is Monday, Feb. 18, 2019. Please make your reservations early. Some restrictions on cancellation may apply.
Transportation to the CAD Hotel
A taxicab can take you to the CAD hotel, which is a 4-minute drive from Ronald Reagan Washington National Airport (DCA). Another option is to take the Metro subway. DCA is one stop from the CAD hotel at Pentagon City on the Yellow or Blue Lines. If you require transportation assistance, please call the hotel's Concierge Services at 703-415-5000.
Always book your SAF hotel rooms using the information posted above.
If you receive a phone call from any company claiming they are a responsible for SAF housing, it is a scam. These companies are not in any way affiliated with the Society of American Florists and should not be used to make reservations. If you have any questions about hotel rooms for SAF's events, please contact SAF's Laura Weaver at 703-838-5221.
Congressional Action Days 2018

Monday, March 12, 2018
7:30 – 9:00 a.m.
KICK-OFF BREAKFAST
Speakers: Jim Richards and Mike Smith, Cornerstone Government Affairs
Two strategists on opposite ends of the political spectrum share "point/counterpoint" insights into how Washington works and the issues facing the nation. Find out how we can put our priorities front and center on Capitol Hill with Jim Richards (R) and Mike Smith (D).
9:30 a.m. – 11:15 a.m.
ISSUES AND ADVOCACY TRAINING
Speakers: Dr. Joe Bischoff, Cornerstone Government Affairs; Shawn McBurney, SAF; Terril Nell, Ph.D., AAF, American Floral Endowment; Laura Foote Reiff, Greenberg Traurig; Stephanie Vance, Advocacy Associates
Find out how to talk about the key issues affecting the industry in a way that brings it home to lawmakers and their staff. During this informative session, SAF lobbyists explain the issues we're taking to Capitol Hill and you also get a hands-on lesson in effective Hill communications from professional lobbyist trainer Stephanie Vance.
11:15 a.m. – 11:45 a.m.
LUNCH
Meet with participants from your state or region over lunch and talk about how best to tell the industry's story during your congressional appointments.
1:00 – 4:00 p.m
WHITE HOUSE BRIEFING
CAD participants always get the inside scoop, and this year it's coming straight from the top tier. We're returning to the Eisenhower Executive Office Building in the White House complex for an exclusive Administration briefing.
6:00 – 9:30 p.m.
SAFPAC RECEPTION AND DINNER*
Speaker: Major Garrett, CBS News' Chief White House Correspondent and Columnist at Large for National Journal
Major Garrett has made a career out of being "in the know" about politics. He has covered the major news stories that have affected national policy, and he's a student of the inner workings of Congress. His dynamic speeches call upon anecdotes from his time on Capitol Hill, well-established relationships with top political players, as well as tales from the presidential campaigns he's crisscrossed the country covering. He breaks down complex hot-button policy issues and is recognized as balanced, having worked for the White House teams of both CNN and Fox News.
ABOUT SAFPAC
SAF's Political Action Committee, SAFPAC, supports our lobbying efforts and brings visibility to the floral industry by contributing to the campaigns of federal candidates. To learn more, contact Drew Gruenburg at 703-838-5229; dgruenburg@safnow.org.
Tuesday, March 13, 2018
7:30 – 9:00 a.m.
GRASSROOTS BREAKFAST
Speaker: Congressman Jimmy Panetta (D-California)
It's your big day on Capitol Hill. Start with a pep talk from Rep. Jimmy Panetta (D-California) who'll explain why it's important for lawmakers to hear from you.
10:00 a.m. – 5:00 p.m.
CONGRESSIONAL APPOINTMENTS
This is your chance to tell lawmakers about how laws and regulations affect your business. Wear comfy dress shoes, and we'll give you a wearable flower and take you to Capitol Hill to visit congressional offices as part of your state or regional delegation.
New to "lobbying?"
SAF has you covered. We'll match you up with a "veteran" attendee or SAF staff member who'll be with you every step of the way on Capitol Hill.
As you talk about what's important to your business, you'll also
• EXPAND awareness of the floral industry
• BUILD support for our most critical issues
• STRENGTHEN our foundation for future generations!
10:00 a.m. – 5:00 p.m.
HOSPITALITY SUITE
Sponsored by Hortica 
Between appointments, the Capitol Hill Club is your home base. Stop by the hospitality suite to grab lunch or snacks, chat with other attendees, and send thank-you messages to lawmakers and staff you visited. Be sure to share your 
#safcad experiences on Facebook and Twitter.
5:30 – 7:30 p.m.
DAY'S END RECEPTION*
The Ritz-Carlton Pentagon City
Gather with fellow attendees to unwind, share experiences and frame the events of a very busy day with fascinating personal perspective.
Congressional Action Days 2018 Speakers

Dr. Joe Bischoff
Dr. Joe Bischoff is one of SAF's lobbyists with Cornerstone Government Affairs, a firm specializing in government relations, strategic consulting and advocacy. He joined the agriculture and natural resources team at Cornerstone Government Affairs following his work in government and regulatory affairs for the horticulture industry where he focused on the intersection of federal programs and science-based solutions to plant health and crop production challenges. Dr. Bischoff has served on a number of scientific committees and review panels including the National Invasive Species Council's Invasive Species Advisory Committee (ISAC), National Clean Plant Network (NCPN) and the National Institute of Food and Agriculture (USDA-NIFA). Previously, Dr. Bischoff was with the USDA's Animal Plant Health Inspection Service (APHIS) where he was National Mycologist and Lead Scientist on the APHIS Intercepted Plant Pathogen Sequence Initiative (IPPSI).
Major Garrett
For 30 years Major Garrett has reported from the front lines of the nation's pressing issues, doggedly chasing and breaking news stories. He began his illustrious journalism career as a police and general assignment reporter, and has since covered Congress for two major magazines and served as White House correspondent for three television networks. He is the Chief White House Correspondent for CBS News, and was the network's chief political reporter covering the 2016 Republican race for the White House. He traveled the country extensively beginning in the summer of 2015, and covered every GOP debate and significant campaign event for CBS. Major also hosts the CBS News podcast "The Takeout" and serves as Correspondent at Large for National Journal. He has been called "one of the smartest people in the briefing room" by Former White House Press Secretary Robert Gibbs and "a tireless reporter and tremendous addition" to Washington bureaus by CBS News President David Rhodes.

Shawn McBurney
Shawn McBurney is a lobbyist and joined SAF in 2015 as senior director of government relations. He represents the floral industry on Capitol Hill on issues that impact the broader SAF membership, such as health care, immigration reform, taxes, minimum wage, overtime and other labor issues. McBurney has worked in the government relations arena since 1993 with positions on Capitol Hill, in the federal government, a non-profit and a trade association.

Rep. Jimmy Panetta
The son of former White House Chief of Staff, CIA Director and Secretary of Defense Leon Panetta, Rep. Jimmy Panetta (D-California) is one of the floral industry's biggest advocates in Congress. He was sworn in as member of the 115th Congress on January 3, 2017. SAF supported his 2016 congressional campaign. Panetta represents California's 20th Congressional District, representing the Central Coast – all of Monterey and San Benito Counties and southern portions of Santa Clara and Santa Cruz Counties. His region produces flowers and many other agricultural products, from artichokes to strawberries to lettuce to wine grapes. He serves on the House Agriculture Committee, and its subcommittees on Biotechnology, Horticulture, and Research; and Nutrition. He also serves on the House Armed Services Committee. Panetta is the founder and co-chair of the Agricultural Research Caucus and is the co-chair of the Congressional Cut Flower Caucus.

Jim Richards
Jim Richards is the principal and director of Cornerstone Government Affairs. He served as the appropriations staff for succeeding chairmen of the House Appropriations Subcommittee on Agriculture, Rural Development, FDA and related agencies, the Director of the Office of Intergovernmental Relations at the United States Department of Agriculture, and the chief of staff to Rep. Steve Pearce (R-N.M). Prior to government service, Richards was the general manager of a multi-million-dollar wholesale and retail business in New Mexico and a small business owner in Arizona. He also served as an interrogator, linguist and intelligence specialist on active duty in the U.S. Army.

Mike Smith
As a principal and director at Cornerstone Government Affairs, Mike Smith advises non-profit, corporate and tribal entities on a range of issues before the federal government including education, health care, aviation, rail, tax, technology, international relations, Native American, budget and appropriations matters. He has extensive experience in Democratic politics at the local, state and federal levels and remains heavily engaged with the Democratic Senate Campaign Committee as a Member of the Majority Trust Legacy Circle since 2008. Smith earned a law degree from the Georgetown University Law Center in 1996, after graduating cum laude from the University of Notre Dame with a B.A. in Government & International Relations in 1993.

Stephanie Vance
Professional lobbyist trainer Stephanie Vance founded Advocacy Associates, LLC, to help individual citizens fulfill their right to be heard by their lawmakers. She's been a lobbyist, congressional aid, legislative director and chief of staff on Capitol Hill and builds that first-hand expertise into fast, funny training scenarios to help her audience prepare for whatever comes their way on The Hill. Vance's lively, interactive programs are always full of fresh practical advice. Her sessions always earn top marks from CAD veterans and first timers alike.